Chinese artist Ai Weiwei pays bond to appeal tax demand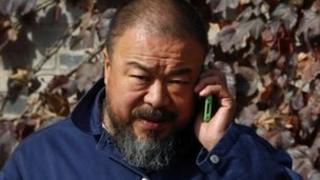 Chinese artist Ai Weiwei has handed over a $1.3m (£820,000) bond to the government in order to begin an appeal against a massive tax bill.
He said the tax bureau insisted he put the money into its bank account or face police prosecution.
Ai Weiwei was given a bill of $2.4m two weeks ago after being accused of tax evasion earlier this year.
Many believe it is part of an attempt to silence a fierce critic of the Chinese government.
Ai Weiwei and his representatives had been in talks with tax officials about how he could contest the demand.
He wanted to give them proof that he had the bond, but the authorities refused. They wanted the money handed over by Tuesday.
In the end, Mr Ai relented.
"This is the only way we could lodge an appeal. If we missed this deadline they said they could turn the case over to the police," he said.
The artist had to go to his bank with tax officials and transfer the money.
'Can't argue'
The cash had been given to him by supporters who have donated nearly 9m yuan ($1.4m, £890,000). The artist has promised to pay them back.
After handing over the money, Ai Weiwei told the BBC: "I feel upset and helpless. The whole process is absolutely outrageous."
The artist, who helped design the main stadium for the 2008 Beijing Olympics, did not want to give the tax bureau the money because, he believes, it could be used against him as an admission of guilt.
He is not even certain that the appeal against the tax bill will be allowed to proceed.
"It's not lawful, but in China you can't really argue with them," he said.
Neither the tax bureau, nor any other government department, has commented recently on the case against Ai Weiwei.
The tax bill comes after an incident earlier this year that saw Mr Ai detained for nearly three months. When he was released he was accused of tax evasion.