India's Kingfisher Airlines considers rescue package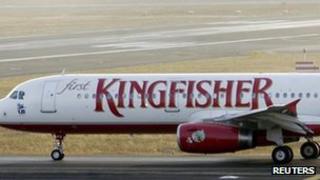 India's beleaguered Kingfisher Airlines is considering proposals, including selling property, to cut its $1.3bn debt by more than 50%, officials say.
Kingfisher's board is meeting on Monday to finalise its quarterly results.
They are reported to be considering converting loans from its parent company into equity and changing its aircraft leasing terms.
Creditors have asked the company to raise $159m (£100m) in equity so that its debts can be restructured.
State Bank of India Managing Director Hemant Contractor said that the airline must also have a credible business plan before any restructuring takes place.
Kingfisher has cancelled scores of flights over the last 10 days as shares hit a new low amid ongoing debt fears.
India's second-biggest airline is about $1.2bn (£760m) in debt.
If approved, the proposals will help the company to get badly needed bank loans to run its operations.
Cutting flights
Founder and part-owner Vijay Mallya insists the airline will not close but is just cutting losses by "rationalising flights".
Shares in Kingfisher rose by 7.6% on Monday in Mumbai after a fall by as much as as 18% on Friday.
Correspondents say that the airliner has become one of the main casualties of high fuel costs and a bitter price war between a handful of Indian airlines who have all ordered hundreds of aircraft for delivery over the next decade.
The sale of Kingfisher's assets or shares to raise more funds is one of a number of options which the State Bank of India has discussed with Kingfisher.
The bank has a debt exposure of 14 billion rupees to Kingfisher, making it the airline's biggest lender.
Although Kingfisher has never posted a net profit since it started operations in May 2005, its problems have become more acute in recent months.
The airline announced last week that it was cutting its daily operations to 300 flights from the previous 340. It also recently stopped its low fare operations, saying they were unviable.