Aung San Suu Kyi cautiously positive on Burma reform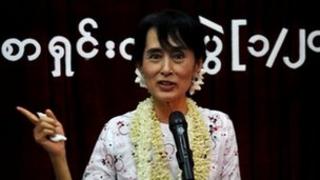 Aung San Suu Kyi has given cautious backing to the process of reform that appears to be under way in Burma.
In a speech to mark a year since her release from house arrest, Ms Suu Kyi called for determination and daring to maintain progress.
But the pro-democracy leader warned against any sense of complacency.
Her comments come amid growing expectation that another group of political prisoners could soon be set free.
'Faith and daring'
In a wide-ranging speech to journalists in Rangoon, Aung San Suu Kyi refused to say categorically whether Burma was now firmly on the road to democracy.
But she said: "I think we are looking at the road and we need faith and daring to proceed along this path."
The pro-democracy leader described the past year as eventful, energising and to a certain extent encouraging.
Some political prisoners had been released, she noted, but others remained in detention.
Renewed hostilities in some ethnic minority areas were a matter of great concern.
But the one issue Aung San Suu Kyi said was more important than any other was the need for the rule of law.
Without it, she said, progress would never be sustainable.
Overall Aung San Suu Kyi appeared to be cautiously positive about recent developments in Burma.
But there was a lot of work to be done, she added, to create an atmosphere in which co-operation could flower.