Rahul Gandhi launches key India poll campaign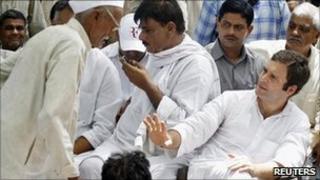 India's Congress party MP Rahul Gandhi has launched his campaign for the upcoming election in the politically crucial state of Uttar Pradesh.
Mr Gandhi is a rising political star and seen by many as a future prime minister.
Analysts say the Congress is looking to boost its tally from its existing 22 seats in Uttar Pradesh's assembly.
The state is ruled by the Bahujan Samaj Party, which represents the Dalits (former untouchables).
The BBC's Ram Dutt Tripathi in Uttar Pradesh says all the parties have begun campaigning early for the polls which are to be held early next year in the populous and politically influential Uttar Pradesh state.
The ruling government is led by Mayawati, an icon for millions of India's Dalits, for whom she has became a symbol of dignity and political aspiration after centuries of oppression by the Hindu upper castes.
Protests
Rahul Gandhi is a Congress party MP for the Amethi constituency in Uttar Pradesh, and has been critical of Ms Mayawati and her government.
His campaign in the state during the general elections in 2009 was considered to be the key to Congress's winning 22 of its 80 parliamentary seats.
Over the past year, Mr Gandhi has targeted Ms Mayawati's government over its land acquisition policies and the law and order situation in the state.
He has joined farmers who have been protesting against forcible acquisition of land by the state government - the issue of land acquisition is highly sensitive as about 65% of the population rely on farming.
In response, Ms Mayawati has said that Mr Gandhi should "vent his anger" at the Congress party-led federal government's "failure to contain inflation and adopting step-motherly treatment towards the development of Uttar Pradesh".
On Monday, Mr Gandhi spoke at a public meeting in Phulpur, a town close to the city of Allahabad.
Correspondents say that the key state elections promises to become a contest of personalities between the popular Ms Mayawati and the high-profile Mr Gandhi.