Life better since Taliban driven from Kabul, says Nato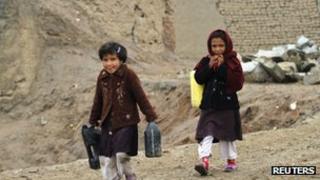 Ten years since the Taliban were driven from the Afghan capital, Nato's ambassador to Afghanistan, Simon Gass, says there have been big improvements.
Kabul has changed beyond recognition, he said, but much remained to be done.
Critics stress that fully securing Kabul is a challenge. The Taliban can still bring death into the heart of the capital, as recent attacks prove.
On 13 November 2001 the western-backed Northern Alliance swept into the Afghan capital virtually unopposed.
A decade after the liberation, Kabul is growing fast, but it still has the architecture of war - checkpoints, blast walls, and heavily fortified buildings.
A city of bicycles has become a city of jeeps and traffic jams - a monument to commerce and to corruption.
"People are always having to pay bribes for everything, even legal things," said Kate Clarke, of the Afghan Analysts Network.
Poverty remains - Afghanistan is one of the poorest countries on Earth. But there is progress, like electricity around the clock in most neighbourhoods.
"What is sure is that when you walk around in Kabul this is now a bustling lively city," said Ambassador Gass, "with women on the streets, people able to go to hospitals, schools open where girls can go to as well as boys and it feels very very different to how it did 10 years ago."
But the ambassador admits that many things have not been done.
A string of recent high profile attacks have proven the Taliban's ability to hit Kabul - including the strike on the US embassy and the assassination of former Afghan President Burhanuddin Rabbani within the same month, September.
"We would wish is to be different," said Ambassador Gass.
"Of course we want to have a stronger element of security.
"We are training the Afghan security forces so that they can provide better security and I think over time that will come."
Maybe, maybe not. Many here are anxious about the coming withdrawal of Nato combat forces, and the security vacuum that is likely to result.
One Kabul resident supplied a grim prediction. "If the Americans are gone at 08:00," he said, "by noon you could see civil war between the government, the Taliban and the warlords."
Ten years on, Kabul is still waiting for peace.
"One friend has lost several members of his family in Taliban attacks in the city," said Kate Clarke. "People assumed and hoped things would be a lot better by now."