Can China's film industry ever rival Hollywood?
By Katie Hunt
BBC News, Hong Kong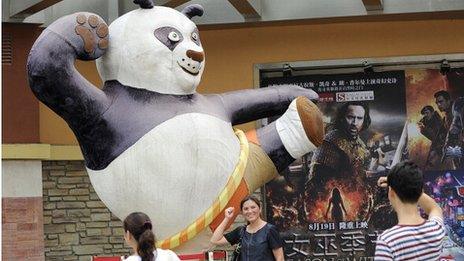 Hong Kong's Avenue of the Stars is a key draw for the thousands of Chinese tourists that visit the city each day.
The harbourfront promenade modelled on Hollywood's walk of fame pays tribute to Chinese movie celebrities.
But none of the dozen or so Western visitors checking out the statue of kung fu star Bruce Lee and the hand prints of Jacky Chan could name a Chinese film they had seen or enjoyed.
Swiss flight attendant Susanne Zehnder, enjoying a walk during a stopover in Hong Kong, said she found the Chinese films shown on her flights confusing.
"It's not just the language. The plot, the mentality is different to the films I know," she said.
China's film industry is the world's third largest, both in terms of the number of films produced and box office takings.
But, with a few high-profile exceptions, its films have not made an impact on the world stage and are struggling to take on the challenges of Hollywood productions at home.
It is a matter of concern for China, which is becoming more assertive in its attempts to export its own view of the world, having seen the "soft power" prowess of US films and television shows.
"Chinese filmmakers and the Chinese governmental groups that oversee the film industry recognise that film and story-telling can be a powerful tool to introduce Chinese people and culture to the outside world," says Rance Pow, founder of Artisan Gateway, a Shanghai-based film and cinema consultancy.
"And that's something they'd like to encourage," he adds.
Once better known for long-winded propaganda films and poorly-produced historical epics, many Chinese filmmakers are improving their craft and adopting Hollywood-style production values.
After more than a decade of break-neck economic growth, there is also more money to be spent on film production.
Last year's martial-arts movie, Let the Bullets Fly, and Aftershock, the story of a family separated in the 1976 Tangshan earthquake, were commercial and critical hits in China.
There are also a growing number of art-house dramas and documentaries made without state backing, but these are sometimes banned in China and only feature on the international festival circuit.
Many of China's biggest movie hits owe at least some of their success to acting and directing talent from Taiwan and Hong Kong, which has a long film-making tradition, particularly of action movies.
It is a trend that started with Crouching Tiger, Hidden Dragon, the 2000 martial-arts movie and the most internationally commercially successful Chinese film to date.
"Chinese filmmakers are coming into their own but the learning curve has been accelerated by partnerships and co-investment with outside groups that are already expert in their field," says Mr Pow.
Despite their increased sophistication, Chinese films are a hard sell outside their home market, says Tim Kwok of Cinema Asia Releasing, which distributes Asian-language films in North America.
A lack of appetite for local-language films among young audiences, poor marketing and a shortage of bankable Chinese actors are just some of the challenges facing Chinese films, he says.
"There's a lack of younger Chinese stars that travel internationally. People like Jacky Chan and Jet Li, Chow Yun-Fat and Michelle Yeoh are now in their fifties."
"Also, Chinese movies are in some ways being held back because Chinese censorship rules mean that edgy subjects such as sex… just aren't kosher," Mr Kwok adds.
In 2010, 47 domestic Chinese films were released overseas but that number could increase following a new venture by two of China's largest film production companies.
Last month, Huayi Brothers Media and Bona Film Group acquired a stake in start-up China Lion Film Distribution, with a view to increasing the movies it releases in North America.
Domestically, Chinese movies face tough competition from Hollywood, which now regards China as a major market.
China's box office takings totalled $1.6bn (£1bn) last year, up 62% from 2009. And with only 6,300 cinema screens compared with 40,000 in the US, potential for future growth is huge.
Foreign movies like Avatar made up 55% of ticket sales and dominated the top 10 even though the Chinese government limits the release of wholly foreign-made films to 20 a year and gives preferential treatment to high-profile domestic releases.
So far in 2011, four of the top five draws have been Hollywood productions.
This year's top-grossing Chinese-language film, the state-backed extravaganza Beginning of the Great Revival, which details the period between 1911, when China's last dynasty ended, and the founding of the Chinese Communist Party in 1921, boasted a $12m budget and a cast of 178 Chinese-language speaking actors such as Andy Lau and Chow Yun-Fat.
Reports said that state companies compelled their employees to see the film and cinemas pushed back competing titles to make way for the movie.
However, Kung Fu Panda 2, released around the same time, ultimately proved the more popular film, irking some Chinese artists and scholars, who called for a boycott, saying the animation "twisted Chinese culture and serves as a tool to 'kidnap' the mind of the Chinese people'".
Back on Hong Kong's Avenue Of Stars, Chinese tourists pose for pictures and scout out familiar names with the same glee and fervour as any fan on Hollywood Boulevard.
But some industry watchers remain sceptical that the country's moviegoers will be able to resist Hollywood's tried and tested marketing machine.
"I don't think the Chinese movie industry is producing enough variety of films to fend off the Hollywood invasion," says Mr Kwok, at Cinema Asia Releasing.
"In China, there is a lack of commercial directors and a lack of movie stars."
"Without the quota system, I just think the industry would be taken over by Hollywood films."