Pike River tragedy: Mine boss Peter Whittall charged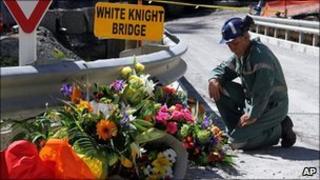 A former mining firm boss has been charged over last year's Pike River disaster in New Zealand, in which 29 miners were killed.
Peter Whittall, former chief executive of Pike River Coal, faces 12 criminal charges relating to safety in the mine.
The firm, which went bust after the disaster, and a drilling company will also face charges.
A gas explosion at the pit caused the deaths in November last year, in one of the nation's worst mining disasters.
The government announced last week that three parties were to face charges, but did not name them because of legal orders banning the naming of accused people.
But the labour department said in a statement that the three parties could now be named.
Mr Whittall will face 12 charges, including four offences of "failing to take all practicable steps to ensure that no action or inaction of his as an employee harmed another person".
Pike River Coal will face 10 charges, and drilling firm VLI has been charged with three offences - all relating to safety standards.
The department said in an earlier statement that each charge carried a maximum fine of NZ$250,000 (£120,000; $195,000).
The mine, near the town of Greymouth in the north-west of New Zealand's South Island, was rocked by the first of several explosions on 19 November 2010.
A coroner's report shortly afterwards said evidence suggested the 29 men had died in the blast or from the impact of poisonous gases.
Their bodies have not been recovered and the mine is now sealed off following several other blasts.