Suicide attackers storm Afghan governor's office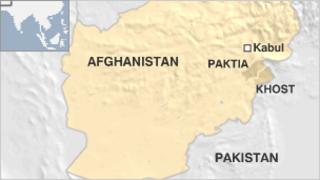 Attackers have stormed the offices of a governor in Afghanistan's eastern Paktia province, killing at least four Afghan security personnel.
Several suicide attackers, armed with bombs, rocket-propelled grenades and machine guns, stormed the offices in the Samkani district of the province.
Afghan officials said all of the attackers were killed in the clash.
A meeting between government and Nato officials was under way at the time of the attack.
One eyewitness, tribal elder Haji Mohammad Essa, told the BBC: ''I was sitting with the district governor when I heard a loud explosion.
"Some elders had come to ask the district governor and officials for security because some of them are nominated to come to Loya Jirga [tribal council].''
Mosque destroyed
Two of the attackers detonated their explosive vests once inside the walls of the headquarters while the other two became involved in a firefight with police officers during which at least three security officers were killed.
Afghan officials said a bodyguard was among those killed in the attack.
The US military in Afghanistan said two coalition soldiers were wounded.
Spokesman Sgt Nick Connor said a mosque where gunmen were firing from was destroyed by helicopter-launched missiles.
He said the coalition forces received permission from Paktia's deputy governor to fire at the mosque.
A Taliban spokesman has said the group carried out the attack on the governor's offices.
Many of those present were due to attend the Loya Jirga - being held in Kabul next week - and the Taliban had pledged to target anyone involved in the meeting.
The meeting is to discuss a strategy for making peace with the Taliban and the country's relationship with the US.
Meanwhile, in the south of the country, Afghan police said a remote-controlled car bomb exploded near a Nato convoy, killing two Afghan men and wounding a young girl, AP reports.