Teenage Kashmir footballer wins dream Brazil trip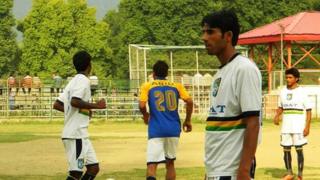 A teenager from Indian-administered Kashmir - jailed last year for fighting the security forces - is to be trained as a football coach in Brazil.
Imran Ahmed Bhatt, 18, says that the course in South America is the opportunity of a lifetime.
Last year he was imprisoned for throwing stones at the security forces.
He has managed to obtain a passport, visa and security clearances to travel even though he still has 18 criminal cases pending against him.
"Kashmir has a huge pool of football talent," Imran told the BBC Hindi service from his home in Srinagar, the summer capital of Indian-administered Kashmir.
"Here, football is more popular than cricket. All unemployed youths want to make a career out of football and if they work hard, they can do it, just like I have."
Imran is the youngest of five Kashmiri students selected to be sent for training to the Sao Paulo Professional Soccer Coaches' Association, the biggest such organisation in Brazil, which is recognised by football's international governing body, Fifa. He says that the course is at least a month in duration.
Criminal charges
Imran's coach, Juan Marcos Troica, told the BBC's Divya Arya in Delhi that while it was challenging to get his travel paperwork processed by the Indian authorities, "the authorities were kind and appreciated his special circumstances".
Our correspondent says that this is the first time someone jailed by the authorities has been selected for the programme.
Imran, who comes from a poor background and left school at 16, says his selection was hard work. He has been playing football for the past seven years and recently took up coaching.
He is currently coaching players at the International Sports Academy Trust near Srinagar, which is financially supporting his trip to Brazil.
But Imran says that he almost lost everything last year.
In the summer of 2010 he took part in violent protests which gripped Indian-administered Kashmir, chanting slogans against Indian rule in the Muslim-majority state.
He was put in jail and still faces possible criminal charges.
But he says he does not want to protest anymore now that he has got this "chance of lifetime... something that other disenchanted youths in the territory can only dream of".
Football has a long history in Kashmir and the game has reflected some of the tumultuous politics of this disputed Himalayan region.
Before the insurgency started in the late 1980s, Kashmir had more than 20 teams representing different government departments.
Football was introduced in Kashmir by CE Tyndale Biscoe, a British missionary who founded Srinagar's historic Biscoe School in the autumn of 1891.
It was then an affordable game for underprivileged Kashmiris living under the autocratic rule of Hindu royals.