India and Pakistan PMs pledge 'new chapter'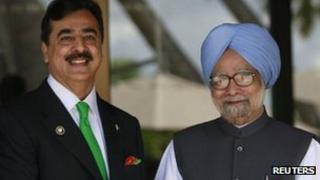 Pakistan's prime minister and his Indian counterpart have met in the Maldives, pledging to open a "new chapter" between the two nations.
Yusuf Raza Gilani said after meeting Manmohan Singh the next full round of talks would be "more constructive".
Mr Singh said he welcomed the "positive movement" from the meeting.
Talks between the two nations were suspended after the 2008 Mumbai (Bombay) attacks which India blamed on Pakistan-based militants.
But earlier this year, leaders vowed to resume their dialogue and find ways to build trust and promote peace.
'Many more miles'
The two prime ministers held an almost hour-long meeting on the sidelines of the South Asian Association for Regional Co-operation (Saarc) meeting in the Maldives, which is being attended by eight heads of government.
"The next round of talks will be more positive, more constructive and will open a new chapter in the history of both countries," Mr Gilani told reporters.
He said all issues had been discussed at the meeting, including the contentious issue of Kashmir.
Mr Singh said: "The time has come to write a new chapter in the history of our relationship.
"We have today had a very extensive discussion, and we welcome some positive movement but more needs to be done.
"The next round of talks should be far more productive and far more practical-orientated in bringing the two countries closer."
No dates have yet been set for the new talks.
On Wednesday, the foreign ministers of the two countries said the "trust deficit" between them was narrowing.
"[But] we have many, many more miles to move ahead," Pakistani Foreign Minister Hina Rabbani Khar said.
Her Indian counterpart SM Krishna said it was "necessary for Pakistan to work out a joint strategy with India in order to fight terror".
Earlier this month Pakistan's cabinet unanimously approved "most-favoured-nation" trading status for India.
In July Mr Krishna met Ms Khar in Delhi. They said relations were "on the right track".
Disagreements between the two countries over Kashmir have caused two wars.
India also wants Pakistan to take action against militant groups based on its soil, especially those perceived to be behind the 2008 Mumbai attacks in which gunmen killed 165 people.
Pakistan Interior Minister Rehman Malik said the sole surviving gunman, Mohammad Ajmal Amir Qasab, should be executed.
"Qasab is a terrorist. He is a non-state actor. He should go to the gallows," Mr Malik told reporters in the Maldives.
Since February, Indian and Pakistani officials have met to discuss a range of issues.
Analysts say it seems both governments appear committed to improving relations.