Sri Lanka's Hambantota port 'not deep enough'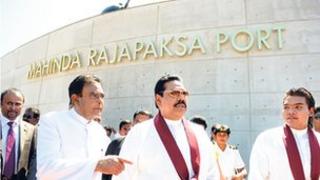 The Sri Lankan government has continuously misled people over Hambantota Port, the main opposition United National Party (UNP) has said.
Concern has been raised by the UNP over the port's maximum depth of 17m, which it says is not deep enough for unloading larger cargo vessels.
The government says that the $1.4bn port, funded by the Chinese, is at the core of its plans to develop the south.
It is part of a drive to rebuild areas neglected during the civil war.
The massive port, launched in August 2010, has been hit by numerous problems.
The government said at that time that there had been delays in completing it because of a huge rock on the seabed near the harbour entrance, which impeded access to it.
But the UNP says that even though that problem is being solved, only shallow vessels can safely berth at Hambantota.
UNP MP Harin Fernando told BBC Sinhala's Emma Wallace that the port had only been constructed to "satisfy President Rajapaksa's ego".
His concerns about the capacity of the port have been supported by the Port of London Authority which has also said that bigger ships may not be able to use Hambantota.
Mr Fernando argues that although it was supposed officially to have opened a year ago, the port is still not functioning properly.
"The problem is that it is very difficult for larger vessels to berth at the port because of the fluctuating tide.
"Furthermore, the port can become dangerous in heavy monsoon rains."
Mr Fernando also said that local people living near the port were unable to find work there because it employs around 7,000 Chinese workers.
But Sri Lanka Port Authority Chairman Priyath Bandu Wickrema told the BBC that there are "no restrictions at all" on the size of ships that are able to refuel and bring cargo to the port.