Trust with Pakistan improving, says India minister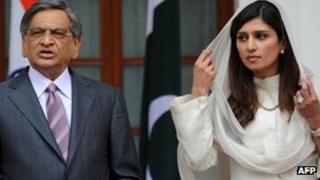 India's foreign minister has said that the "trust deficit" with Pakistan is "shrinking".
SM Krishna made the remarks ahead of a meeting between the prime ministers of the rival neighbours at a regional summit in the Maldives.
Talks were suspended after the 2008 Mumbai (Bombay) attacks which India blamed on Pakistan-based militants.
But earlier this year, leaders vowed to resume their dialogue and to find ways to build trust and promote peace.
'Joint strategy'
"The trust level has gone up between the two countries," Mr Krishna was quoted as saying by the Press Trust of India news agency.
He said it was "necessary for Pakistan to work out a joint strategy with India in order to fight terror".
Earlier this month Pakistan's cabinet unanimously approved the award of "most favoured nation" trading status to India.
In July, Mr Krishna met his Pakistani counterpart, Hina Rabbani Khar, in Delhi. The two said relations between the countries were "on the right track".
Disagreements between the nations over the Kashmir issue have been the cause of two wars.
India also wants Pakistan to take action against militant groups based on its soil, especially those perceived to be behind the 2008 Mumbai attacks in which gunmen killed 165 people.
Since February, Indian and Pakistani officials have met to discuss a range of issues.
There remains a huge amount of mistrust between the nations but, analysts say, for now it seems both governments appear committed to improving relations.