Vietnam floods crisis deepens, with deaths topping 100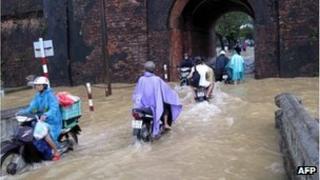 Vietnam has been battered by more flooding, as officials say the death toll from months of deluges across the nation has risen to 100.
Seventeen people were confirmed killed in Quang Nam province in recent days, and five more people died in other central provinces.
Roads have been swept away and thousands forced from their homes by the floods in central Vietnam.
The south of the country around the Mekong delta has also been hard hit.
Flooding in the south had already cost 78 people their lives since August, with the UN saying that most of the fatalities were children who had drowned.
Nguyen Minh Tuan, a disaster officer in Quang Nam, told the BBC Vietnamese service that the province had been hit by four days of flooding.
"Quang Nam province gets hit by floods every year. Local people in this area are getting used to living with floods - they have to find a way to adapt," he said.
He said roads had been seriously damaged and the bill for the clean-up in the province was likely to top 100bn dong (£3m; $5m).
Local newspapers ran pictures of inundated houses and streets in the town of Hoi An and the ancient city of Hue.