NZ deconsecrates quake-hit Christchurch Cathedral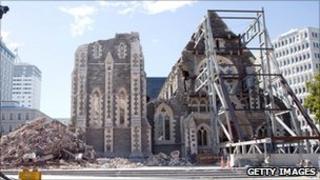 Dozens of New Zealanders have attended an emotional ceremony deconsecrating Christchurch Cathedral, which was wrecked in February's earthquake.
The ceremony paves the way for the building to be partially demolished, and for a new cathedral to be built.
Anglican Bishop Victoria Matthews told worshippers that the community had suffered "real loss", but urged people not to give up hope.
Much of the region is still struggling to recover from the 22 February tremor.
Some 165 people were killed in the 6.3-magnitude quake, and much of the centre of Christchurch was destroyed.
The city's shattered cathedral with its broken spire became one of the most striking images after the quake struck.
The city has been sectioned off into colour-coded zones, with the red zone - including the cathedral - still largely off-limits.
About 300 worshippers were bussed in for the ceremony, which took place outside the cathedral.
According to local news website the Press, Bishop Matthews told the ceremony: "Today we look upon a building that has meant so much for so many.
"We give thanks for it and we cherish our memories, but we hear God's voice saying it is time, for a while, to move on and allow it to be made safe and part of it to be taken down.''
Officials say it is likely to cost NZ$4m (£2m; $3.2m) to demolish the parts of the cathedral that cannot be saved, and another NZ$30m to build a new structure.
Church leaders said they hoped to have a temporary cathedral in place in time for next Easter.