Philippines bars Gloria Arroyo from travelling abroad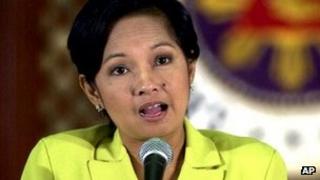 The Philippine government has barred former President Gloria Arroyo from travelling abroad for medical treatment.
Mrs Arroyo faces several allegations of corruption, and the Justice Secretary said there were concerns she might not return if she was eventually charged.
A lawyer for Mrs Arroyo told reporters that the decision was "tyrannical".
Gloria Arroyo is on a travel watch list, which means she has to seek permission before going abroad.
She had asked the government to allow her to leave the Philippines to get expert help for a rare bone disease.
But the Justice Secretary, Leila de Lima, said she could receive the treatment at home.
Mrs de Lima also said she was suspicious of the many countries Mrs Arroyo wanted to visit which had no extradition treaty with the Philippines.
Gloria Arroyo has been accused of numerous cases of corruption and electoral fraud during her nine-year term (2001-2010) in office, but she has yet to be officially charged with any offence.