India stampede 'kills 16' at Haridwar festival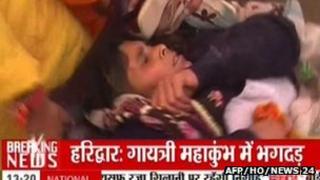 At least 16 people have been killed in a stampede in the northern Indian holy town of Haridwar, officials say.
About 50 others were injured as devotees gathered to mark the 100th anniversary of the birth of the founder of a Hindu sect.
Thousands have been attending the ceremony for Sri Ram Sharma, who founded the Gayatri Parivar sect.
Reports said the number of casualties could rise. Television footage showed injured people being taken to hospital.
"More worshippers turned up than the place could accommodate and so the stampede occurred," a senior local official, D Santhel Pandiyan, told the AFP news agency.
Many women and children are reported to be among the dead and injured.
Hemant Sahu, who works for the event organisers, told AFP: "When the big ritual was going on, too many people rushed forward to make their offerings to the holy fire and the crowd got out of control."
Reports said a number of people fell but other pilgrims continued to push.
Haridwar, 173km (107 miles) north of Delhi, is a temple-filled town where the Ganges emerges from the Himalayan mountains and is considered sacred by Hindus.
The huge numbers attending religious festivals in India make stampedes a frequent risk.
A stampede at a festival in the southern state of Kerala in January killed more than 100 people.