From arms to farms - Indian state plans gun meltdown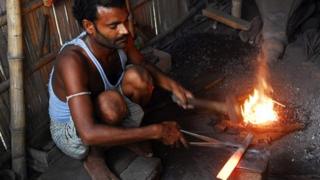 Police in the northern Indian state of Bihar have come up with an original way to deal with the surfeit of seized illegal firearms that are stored in police station storehouses, or malkhanas.
They have decided to melt the weapons down into farming and gardening tools.
"The weapons stashed in police station malkhanas are of no use once the legal process of the case is over. They stink like dead bodies," says Abhyanand, the Bihar police chief who has ushered in this innovative idea.
"Can we keep the dead bodies of criminals for long? Only the post-mortem report is preserved. The same law should apply with unwanted weapons."
The police chief told the BBC that was a provision in the Bihar Police Manual that gave him the power to order the destruction of "unserviceable and unusable" weapons that have been seized by his officers and which have been lying in police stations for too long.
Besides, he argues, local courts in Bihar can - under the terms of the code of criminal procedure - also order the destruction of seized weapons once a criminal trial is over.
"But instead of simply destroying the firearms I thought it would be better to recycle them into farming and gardening tools to help rural people earn their livelihoods," police chief Abhyanand said.
It is not the first innovation this dynamic Bihar policeman has introduced.
He has brought in fast-track trials to Bihar's courts and made it possible for retired army personnel to be appointed to the Special Auxiliary Police (SAP).
More recently he has enabled police to seize unclaimed property as part of a drive to establish the rule of law in a state that has a reputation for being one of the most lawless in India.
'Positive message'
In October the first weapons-to-farms case was heard in the district of Darbhanga. It was not an auspicious start.
The district police chief appealed to Chief Judicial Magistrate PK Dixit for permission to destroy a locally made pistol - or katta - that was confiscated from a criminal after his death and convert it into an agricultural implement.
The day after the court gave its assent, police took the weapon to a foundry in neighbouring Begusarai district - 100km (62 miles) away and melted it down.
"But sadly the local blacksmith - despite his hard work - failed to convert the pistol into an agri-tool, so we took it to a foundry where it was liquefied," said police Superintendent Vikas Vaibhav.
But if on that occasion the scheme did not work, the principle had been firmly established.
Mr Vaibhav said that by destroying such seized illegal firearms, the police could offset "erroneous allegations" that they often used such weapons to support false charges.
Mr Vaibhav's counterpart in adjacent Muzaffarpur district, Rajesh Kumar, has also recycled unwanted weapons - turning them into hoes, clippers, sickles and weeding shovels.
The district police compiled a list of 37 police stations in Muzaffarpur district where weapons were stored belonging to criminals connected with arms haul cases.
Mr Kumar then appealed to local courts for permission to destroy the weapons, which were taken to a roadside blacksmith to be turned into farming tools.
This time there were no complications and the event was witnessed by an executive magistrate and recorded on video.
Mr Kumar says that he hopes many other weapons may be changed into tools.
"It will stop misuse of weapons," he told the BBC, "and will send a positive message to society."
Dubious distinction
Bihar has more than 800 police stations and according to police estimates at least 10 illegal weapons are seized and placed in them every month.
"Over 60,000 illegal firearms - mostly country-made pistols and revolvers - are currently lying in malkhanas of police stations in Bihar," says police chief Abhyanand.
"In due process all of them will be melted down into farming or agricultural tools."
Visibly upbeat from the encouraging reception his idea has generated among the people of Bihar, he says that in the long run he would like to get permission from Patna High Court to destroy seized firearms from the very beginning of criminal cases.
But this would not be India if there were not a little red tape in the process.
"Of course [it can only be done] once the documentation - including videography and ballistic reports of the weapons - is completed," he says.
But there is little doubt that the bureaucratic delays will not stop what the police chief describes as the "cannibalisation of Bihar's weapons".
That such weapons need to be taken out of circulation is all too clear from a recent report by National Crime Records Bureau.
It shows that Bihar - along with Uttar Pradesh - has earned the dubious distinction of the "most crime prone state" in India, accounting for 3,362 lives lost in violent crimes in 2010.