Singapore's Lee Kuan Yew admits nerve illness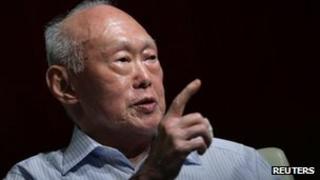 Singapore's founding father Lee Kuan Yew has told journalists that he has a nerve illness.
Mr Lee, 88, is suffering from sensory peripheral neuropathy, which prevents him from walking steadily.
His illness was first revealed by his daughter Lee Wei Ling, who is a doctor in neurology.
But the former prime minister insists that the illness has not affected his mind, and he is still going to contribute to his country.
He told Singapore's Straits Times newspaper: "I have no doubt at all that this has not affected my mind, my will nor my resolve.
"People in wheel chairs can make a contribution. I've still got two legs, I make a contribution."
'Unsteady gait'
Mr Lee said he has had the disease for two years, and he is still learning to adjust.
His daughter says she first noticed her father's ailments when she accompanied her father to meet former US Secretary of State Henry Kissinger in Connecticut.
"I remembered how in October 2009, I had noticed my father's broad-based unsteady gait compared with Dr Kissinger's steady gait," wrote Dr Lee in a column on Singapore's Sunday Times.
"I did a few simple neurological tests and decided the nerves to his legs were not working as they should."
Dr Lee did not elaborate on the cause of her father's illness, but said she has had a milder version of the same illness before.
Mr Lee was prime minister from 1959 to 1990 and went on to be a senior minister, and later minister mentor.
The veteran politician, whose son Lee Hsien Loong is Singapore's current prime minister, retired from the cabinet after the general election in May this year. He still serves as a member of parliament.