Thailand floods: Bangkok evacuation widens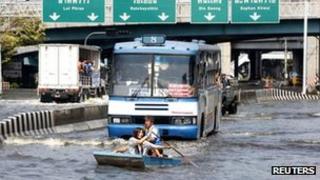 Residents in more districts of the Thai capital have been warned to evacuate as flood water continues to move south towards the sea.
The water has now reached the outskirts of the inner city, although the authorities are still battling to keep the commercial heart of Bangkok dry.
Two more industrial estates are threatened, as well as the relocated flood emergency headquarters.
More than 500 people have lost their lives as a result of the floods.
Humanitarian organisations are now concerned about communities living among the increasingly dirty water, reports the BBC's Rachel Harvey in Bangkok.
Buses suspended
More than a third of Bangkok's districts are now subject to full or partial evacuation orders.
Flood waters are gradually draining away from inundated provinces north of the capital, passing through and around Bangkok as they flow to the sea.
City authorities have been given more pumps to try to force the flood water through more quickly.
Bangkok Governor Sukhumbhand Paribatra said the 24 pumps he had been sent would double capacity to move water from the east of the capital.
Two more industrial estates - in Lat Krabang and Bang Chan in eastern Bangkok - have been surrounded by flood waters.
Officials at both sites said the estates themselves remained dry but water had reached surrounding sandbag barriers.
Both the subway and the overground SkyTrain are running as normal but bus services have been suspended in flooded areas.
The domestic airport at Don Muang remains closed and the new flood headquarters - which moved from Don Muang last week - is in an Energy Ministry building now surrounded by water.
Most experts agree that several areas will remain submerged for at least another two weeks, our correspondent adds.
Prime Minister Yingluck Shinawatra says she plans to set aside more than $3bn (£1.9bn) for post-flood reconstruction.
But given the extent of the clean up that will be needed, many here are already predicting the final bill could be much higher.