PNG industrial hub Lae rocked by riot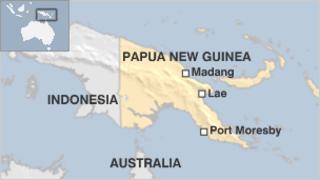 A weekend of violence in Papua New Guinea's industrial hub of Lae has left at least two people dead, reports say.
The unrest broke out after a group of young people tried to deliver a petition to the local governor objecting to rising crime rates.
Mobs then began to attack settlements of people from the Highlands - whom they blame for the rise in crime.
Prime Minister Peter O'Neill warned he could be forced to impose a state of emergency.
"The last thing we want to do is declare a state of emergency, but [we] may have no choice," he said.
Mobs attacked settlements of people from the Highlands, burning homes and looting.
In response, dozens of police were deployed, reportedly firing on crowds with tear gas and bullets.
Australia's ABC News reported that two people had been killed in the violence - one was shot dead by police, and the body of another was found in a burnt-out house.
The Australian government has updated its travel advice to warn of possible further violence in the coming days.
"We advise Australians currently in the area or planning to travel to the area to exercise caution at this time," the advice said.
Many parts of Papua New Guinea are plagued by high crime rates and sporadic outbursts of communal violence.