Japan's Emperor Akihito admitted to Tokyo hospital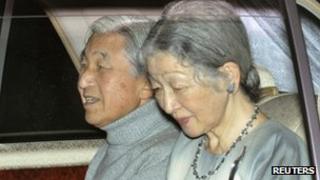 Japan's Emperor Akihito has been admitted to hospital in Tokyo.
The Emperor, who turns 78 next month, was suffering from a cold, fever and symptoms of bronchitis, the Imperial Household Agency said.
An official said the emperor was taken to the University of Tokyo Hospital on Sunday evening as a precaution because of the bronchitis.
Crown Prince Naruhito will temporarily take over the emperor's official duties.
Emperor Akihito ascended to the throne after the death of his father Emperor Hirohito in 1989.
Earlier this year, after the devastating earthquake and tsunami struck the main island of Honshu, Emperor Akihito made a rare public televised address; the following month, he and Empress Michiko, 77, travelled to the disaster area.
Emperor Akihito had surgery for prostate cancer in 2003 and suffered stress-related health issues in late 2008, including irregular pulse and stomach bleeding. The following year, the royal agency said he would cut back on official duties such as speeches and meeting foreign dignitaries.
The palace official said the emperor developed a fever Thursday and had refrained from royal duties since then.
As the titular head of state, he plays a largely ceremonial role, but is held in deep respect by many Japanese.