Trekkers stranded by bad weather on Mount Everest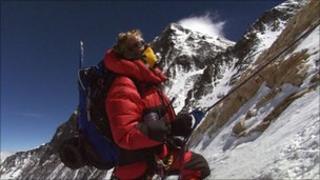 About 2,000 people, including tourists, are stranded in the foothills of Mount Everest because bad weather has halted flights in the area, officials say.
Foreign trekkers and Nepalese guides and porters are among those who have been stuck in the region for four days.
The Tenzing-Hillary airport in Lukla is the gateway for trekkers wishing to scale the world's highest peak.
But correspondents say that hotels are overflowing and food is running out because tourists are unable to leave.
The BBC's Sujata Tamang in the Solukhumbu district in the Everest region says that some hotels have been forced to use their dining rooms as sleeping quarters.
Some Nepalese guides have been sleeping outdoors as tourists have taken up all the spare capacity at hotels. Many hotel owners say they have sent word to inns higher up on Everest that trekkers based there should not descend as there is no space left.
Air traffic controllers fear that the bad weather is unlikely to lift for days, our correspondent reports.
Last year a similar bout of bad weather stranded tourists for about 15 days resulting in a severe food crisis.
Reports say that a few helicopters managed to take some tourists away on Friday, but bad weather was hampering these efforts.
Thousands of tourists visit the Everest region during the peak season in the latter part of the year. Nepal has eight of the world's 14 highest peak including, of course, Mount Everest which stands at 8,848 metres (29,029 feet).