China envoy Zhang Yan in India map outburst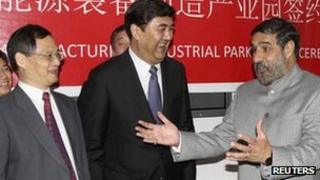 China's ambassador to India has become involved in a heated exchange over a map that showed parts of India within China's border, media reports say.
Zhang Yan was at a business function in Delhi as a Chinese firm signed a deal investing in India's Gujarat state.
A map drawn up by the firm showed the state of Arunachal Pradesh and Ladakh in China and a disputed part of Kashmir as Pakistani territory.
Mr Zhang told an Indian journalist to "shut up" after persistent questioning.
'Technical issue'
The incident took place at a news conference at a luxury hotel in the Indian capital, where a brochure produced by the company contained the map.
Mr Zhang said the journalist "pushed, pushed, pushed", although he had been told this was "a technical issue" that would be corrected.
"We are working for friendlier ties with India... this will not help," he said.
When asked about his outburst, Mr Zhang said that "'shut up' is not something that changes the nature of these things because we are handling this in a friendly way".
Gautam Bambawale, a joint secretary at India's external affairs ministry, conveyed his objections to the map and said he was told it was a mistake that would be rectified.
A number of areas along the border between China and India are in dispute and the nations fought a brief war in 1962.
Numerous rounds of border talks have been held to try to resolve the issues.
China protested when Indian Prime Minister Manmohan Singh visited Arunachal Pradesh during his 2009 election campaign.
The map also showed Pakistan-controlled Kashmir as part of Pakistan. Both Pakistan and India claim Kashmir in its entirety.
Mr Zhang was attending a function at which the Chinese power company TBEA signed a memorandum of understanding for a $400m investment in Gujarat.