Qantas boss Alan Joyce: Lock-out was last resort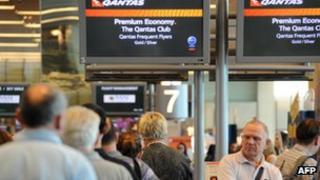 Under-fire Qantas boss Alan Joyce has defended his decision to lock out the Australian airline's staff last weekend as "absolutely the last resort".
Speaking to a parliamentary inquiry, Mr Joyce said he had not planned the move, and strongly denied accusations that he had deceived the government.
One senator accused him of being "obscure and devious" about his plans.
The lock-out grounded the entire Qantas fleet and stranded about 70,000 passengers around the world.
Mr Joyce's move came after months of industrial action by staff who fear they will lose their jobs as part of a proposed restructuring of the airline's business.
The airline resumed operations on Monday after a tribunal ordered management and staff to reach a permanent end to the dispute in the coming weeks.
In an often angry exchange in the Senate on Friday, Greens leader Bob Brown accused Mr Joyce of planning the lock-out long before the fleet was grounded.
"You set out at least the week before grounding the fleet to deceive the government and this parliament by withholding your plan for a lock-out," he said.
Mr Joyce rebuffed the accusation, saying that he had made the decision to lock out the staff only when the industrial action became unsustainable.
"We phoned the prime minister's office when that decision was taken," he said.
The chief executive took full responsibility for the decision, saying other board members had not known.