Mumbai murders fuel India 'Eve teasing' anger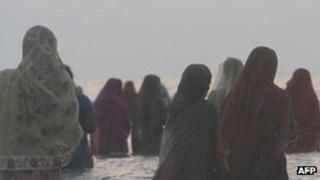 Four people have appeared in an Indian court in connection with the murders of two young men in a case that has attracted considerable attention.
The two men were attacked and killed after they had defended women from harassment outside a restaurant in Mumbai (Bombay).
The public abuse of women - called "Eve teasing" - is rampant in India.
A Facebook campaign calling for justice for the dead youngsters has picked up tens of thousands of followers.
'Proud'
Two weeks ago, a small group of young people had left a restaurant together in a smart district of Mumbai.
Outside, some of the women in the group were harassed by men standing nearby.
Two of the women's friends confronted the men, who fled. But shortly later they returned and attacked the pair.
The two men who came to the women's defence, Keenan Santos and Ruben Fernandes, received injuries so severe that both subsequently died.
The case has attracted a lot of attention in India, especially in social media.
Some of the comment has expressed outrage that all this happened in a busy part of one of India's most progressive, Westernised cities and yet no-one intervened when the attack took place.
Valerian Santos, the father of one of the two dead youths, said he was proud of his son and urged more men to take a stand against the public harassment of women.
"I have another two boys and I have always maintained that if a woman or someone is in trouble, don't look at your life - go and help that person," he said.
"These people, they don't realise it until it happens to one of their loved ones. Then they will cry for help."
"Eve teasing" makes life miserable and even dangerous for women who go out in public and who use public transport.