Cambodia embraces Fashion Week in style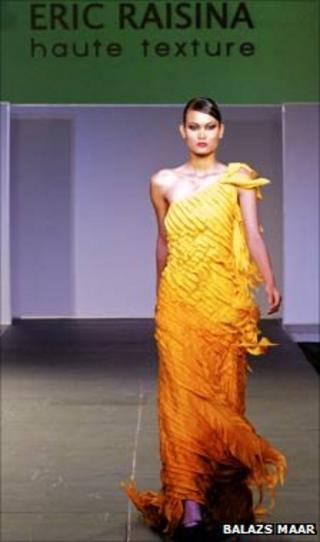 If there were a prize for the most stylish man in Cambodia, Eric Raisina would be among the favourites.
He is dressed all in black, apart from two startling flashes of colour at his neck and feet - provided by one of his own silk scarves and a pair of vintage, multi-coloured baseball shoes.
This combination of casual elegance with a touch of the dramatic is very Eric Raisina. He applies a similar approach to the clothes he designs for women at his atelier in Siem Reap, in central Cambodia.
From a distance, a Raisina dress may give the impression of classical simplicity.
But closer up, eye-catching details become apparent. It may be made of layers of fringed silk, or fabric specially-treated to produce a feather-like effect.
The designer was born in Madagascar, and has worked with some of the leading French fashion houses, including Christian Lacroix and Yves Saint Laurent.
But for the past decade he has been based in Cambodia, and now says he considers himself an "ambassador" for the fashion industry that is slowly beginning to emerge here.
Raisina has shown his clothes on some of the leading runways in the world, and he says that has helped to show off the potential for fashion design to flourish in Cambodia.
"People realise that every piece I have on the runway is made by Cambodian people in my workshop in Siem Reap. And they are quite impressed. So it's very important to be somewhere - like New York Fashion Week, London Fashion Week, Paris Fashion Week - and represent what Cambodian people can do."
Iconic locations
Now, for the first time, Cambodia is enjoying a Fashion Week of its own. There are shows and special events across Phnom Penh, with designers coming from as far away as the United States and New Zealand.
What it lacks in really big names it makes up for in its imaginative use of venues.
Eric Raisina's opening show may have been held in the somewhat prosaic surroundings of a newly-built conference centre, but other events are being held in iconic, art deco locations like the recently-restored Phnom Penh railway station and Central Market.
"Having the first Fashion Week here is very exciting, very special," says Raisina.
"As the country is booming and developing, fashion doesn't exist by itself. It goes with the lifestyle, it goes with the arts scene. In just a few years, many things have happened in the country and the city.
"So that helps people who are thinking about the future and exploring new ideas of fashion."
While the opening show featured a Cambodian-based designer from Madagascar, the closing event will highlight a Cambodian-born designer now based in the United States.
Remy Hou draws much of his clientele from the biggest names of the entertainment industry. Singers John Legend, Katy Perry and Justin Bieber have all worn his clothes. Boxer Floyd Mayweather Jr is also a fan.
Quite an achievement for a man who arrived in the US as a refugee in 1990.
But while there are Cambodian-based foreigners and overseas-based Cambodians, it is striking that there are no purely local designers involved in Fashion Week.
One well-known Phnom Penh boutique that distributes its clothes overseas was due to show, but pulled out.
That indicates there is still a gap between the consumption of fashion and the ability to produce it here.
Hundreds of thousands of Cambodians may work in garment factories - but the designs they make for the likes of Gap, Levi's and H&M all originate in other countries.
There is no clear path from working a sewing machine on a production line to creating original clothing.
That may be changing. The local branch of the Singapore-based Raffles International College now offers a design course for budding couturiers.
And increasing local interest in fashion means there may be a hungry clientele for the first graduates.
Cambodia's leading model agent, Sapor Rendall, says attitudes have been changing rapidly in recent years as the country has become more accessible and prosperous.
"There's a lot of influence coming from neighbouring countries, or from people who've been overseas and seen how other people dress. Television, newspapers and magazines also have an influence."
Fashion Week itself may play a part in changing perceptions still further. Eric Raisina says it will serve as a "dream and inspiration" for budding designers.
Perhaps a future edition of the event will feature a runway show from a designer who started off on a garment factory production line. Stranger things have happened - just ask Eric Raisina or Remy Hou.