Tibetan Buddhist nun burns herself to death in China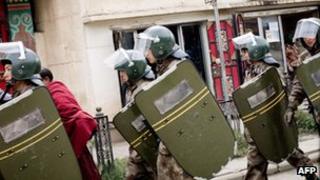 A Tibetan Buddhist nun has died after setting herself on fire in south-west China, state media say.
Qiu Xiang, 35, doused herself in fuel and set herself alight at a road crossing in Sichuan province, said the Chinese news agency, Xinhua.
She is believed to be the eleventh ethnic Tibetan this year to set themselves on fire reportedly in protest against Chinese rule.
Chinese security forces have been accused of oppressing ethnic Tibetans.
Xinhua says the woman was from Dawu county in the Ganzi area of Sichuan.
The agency said it was unclear why she had set herself on fire, but that the local government had launched an investigation.
However, the International Campaign for Tibet (ICT) says it has information that the self-immolation was a protest against the Chinese authorities.
"We heard that she called for religious freedom and the return of the Dalai Lama to Tibet," ICT spokeswoman Kate Saunders told AFP news agency.
Ms Saunders said Tibetans in Ganzi prefecture were "strong in their religious beliefs" and the area had "been very restive for some time".
Qiu Xiang is the second Tibetan nun to set herself on fire since the start of the year.
Most of the self-immolations have been by monks in Aba prefecture around the Kirti monastery, which has become a focal point of ethnic Tibetan anger in Sichuan province.
Three monks there were jailed by the authorities in August for their alleged involvement in one self-immolation in March.
The monks have been protesting about the erosion of Tibetan culture and their treatment by the Chinese authorities.
They are also angry at Beijing's refusal to engage with the Dalai Lama, who is Tibet's exiled spiritual leader.
The Chinese authorities have accused him of encouraging the self-immolations in Sichuan.
Tibet's government-in-exile in India has strongly denied this, accusing China of pushing Tibetans towards desperation.