Afghanistan 'suicide attack' hits city of Herat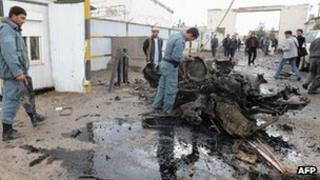 Militants have carried out a suicide gun and bomb attack on a private construction company in the western Afghan city of Herat, officials say.
Two guards were killed and four other people wounded, the officials say, with the fighting now said to be over.
The attack began with a blast at the company's compound in a district close to the city's airport.
Nato handed security control of Herat city to Afghan forces in July, ahead of a full combat troop pullout in 2014.
Meanwhile, in the volatile province of Ghazni two rockets have been fired killing a child, officials say.
'Terror groups'
"Our initial information shows one suicide attacker detonated his explosive vest outside a private security firm in the industrial area," Herat provincial spokesman Mohayddin Noori told the BBC's Bilal Sarwary.
At least two gunmen then entered the offices of the firm, which reportedly works with foreign forces on logistics, officials said.
All major roads into the area were blocked and helicopters were deployed at the site of the attack.
Local taxi driver, Mohammad Hussain, told the BBC he heard heavy gunfire.
"They have blocked the road, [and on] the Herat-Kandahar highway there is a huge traffic jam," he said.
On Wednesday, Afghan President Hamid Karzai warned a major conference in Istanbul that there would be no peace for his country without strong regional co-operation on "terror groups".
The summit, attended by 27 countries, discussed security and development in Afghanistan.
The summit came just days after the deadliest attack yet in Kabul against the Nato mission and after a car bomb targeted a UN building in the southern city in Kandahar.