No plot against Julia Gillard, says Australia's Labor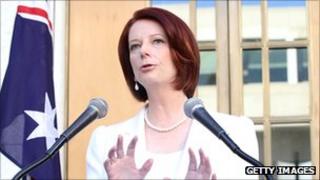 Senior figures in Australia's governing Labor Party have angrily denied there is a plot to get rid of Prime Minister Julia Gillard.
Australia's Daily Telegraph said Labor insiders were planning to replace Ms Gillard with former leader Kevin Rudd.
Communications Minister Stephen Conroy said the paper was campaigning against Labor, and suggested people should read it only for the sport pages.
Mr Rudd, who is currently foreign minister, said he was happy in his job.
"As I've said 1,000 times before, I'm very very happy being the foreign minister. That hasn't changed and won't change," he told reporters.
Mr Rudd was replaced as prime minister by Ms Gillard after an internal party coup before the general election last year.
The Daily Telegraph said Mr Rudd was now being advised on how to unseat Ms Gillard.
An unnamed party insider told the paper there were "three certainties" within Labor.
"There is a leadership challenge under way, Rudd doesn't have a majority yet but has enough numbers to be a contender, and they are strategising about how to get it done," the insider told the paper.
But Labor MPs gave their backing to Ms Gillard, who has repeatedly been forced to defend her premiership in recent weeks.
She suffered a major blow last month when the High Court ruled that a deal to process asylum seeker applications in Malaysia was unlawful.
And her ratings in opinion polls have slumped.
But on Wednesday she once again insisted that she would lead her party into the next election in 2013, saying the people would "increasingly see the achievements of the government's agenda".