Is India's poverty line of 65 US cents a day fair?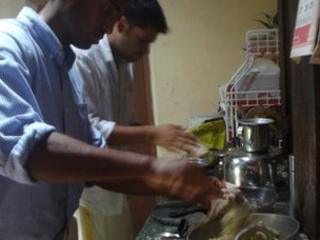 A recent recommendation by the Indian Planning Commission to set the poverty line at 32 rupees (65c/40p) a day has stirred up a major debate across the country. Two young Indians recently decided to test this recommendation for themselves - by trying to live on the amount. Pia Chandavarkar has been following their efforts.
For one week, 26-year-olds Tushar Vashisht and Matthew Cherian lived in a 12ft by 12ft room lent to them by a friend in Karukachal, a sleepy town near Kottayam in the southern state of Kerala.
They existed on the 32 rupees budget which the Planning Commission said represented enough of an income for an individual not to be considered as being poor.
Before that they spent three weeks living in the city of Bangalore on 100 rupees ($2/£1.25) a day - a figure derived by deducting the amount spent on rent from the average Indian per capita income of 4,500 rupees ($90/£56) a month.
The pair wanted to understand the harsh choices and constraints faced by Indian citizens who live just above the budget prescribed by the planning commission.
In both locations they washed their own clothes, drank well water and cooked food. For the Kerala phase, they drank well water and all their travelling was done on foot - because on the 32 rupee budget even public transport was too expensive.
It is a far cry from their old lifestyle working as expatriates abroad. Vashisht is an investment banker who worked in the US and Singapore, while Cherian is an IT engineer and a graduate from the Massachusetts Institute of Technology (MIT).
'Unaffordable'
"I always felt like I lived in a bubble, out of touch with the rest of India. This project was aimed at breaking that bubble," explained Vashisht.
"Anything with an engine was out of bounds, we had to travel everywhere on foot. Any kind of protein, even eggs or dairy products became unaffordable."
Both self-confessed health freaks, Mr Vashisht and Mr Cherian meticulously logged their nutritional intake throughout the day using pie charts and excel sheets, which they updated on their blog.
"It was all about getting the most filling meals at the cheapest prices, which often ended up tilting our diets in favour of predominantly carbohydrate-heavy foods like wheat, rice and plantains," explained Cherian.
As a result the duo experienced weight loss, fatigue and skewed blood sugar levels over the past month, but they say the long-term effects could be truly damaging for poorer people.
They are already likely to be afflicted by malnourishment - especially those who have jobs involving high levels of physical activity.
"For a manual labourer working close to 3,000 calories a day, purely burning through carbohydrates in the day without proteins means that his muscle structures won't develop, leading to an early onset of arthritis and other illnesses," said Vashisht.
Although the pair rigorously stuck to their tight budgets they had to make some exceptions: their laptops, limited internet usage for updating their blogs and, of course, mobile phones.
'Huge oversight'
"We felt that to set up a comprehensive framework to analyse and understand the people living on 100 rupees a day, we should also extend our experiment to the 32 rupees a day income bracket, which is why we conducted the Kerala part of our experiment," explained Vashisht.
Since the 32 rupee cut-off was used to determine those living above the poverty line by the Planning Commission, costs were calculated according to market prices, not according to subsidised rates available to the poor under the Public Distribution System (PDS).
"Since we did not have to pay expenses for rent, healthcare, education and durables like clothing, which account for 7 rupees in the Planning Commission's budget allocation, we deducted that amount from the 32 rupees," says Cherian.
This left them with 25 rupees (50c/31p) a day, of which 17 rupees was allocated for food and the remaining 8 rupees for other expenses, including the use of mobile telephones.
"We only accepted incoming calls, or mostly gave missed calls [so people would ring us back]," said Cherian.
"But we feel it is a huge oversight on the part of the Planning Commission not to account for mobile phone expenses at all in their 32 rupees figure."
The two point out that the Planning Commission's figure was arbitrarily adjusted for inflation from an earlier report from 2004-5, when India's mobile penetration was less than 70 million.
"Since then, there has been a huge expansion in mobile phone penetration, reaching nearly 900 million," said Cherian.
The pair argue that any further deliberations on India's poverty line cut-off point should take into account "socio-economic developments" affecting the poor and "changes in their spending patterns".
Both men returned to India from abroad to join the government-run Unique Identification Authority of India (UIDAI) project, which aims to assign a biometric number to every Indian to improve access to government subsidies.
With the "humbling experience" of their poverty experiment behind them, the two have now begun drawing up plans for a new venture, possibly offering education and healthcare services using mobiles and tablet PCs.