Philippines country profile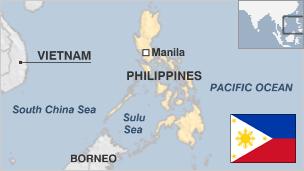 More than 7,000 islands make up the Philippines, but the bulk of its fast-growing population lives on just 11 of them.
Much of the country is mountainous and prone to earthquakes and eruptions from around 20 active volcanoes. It is often buffeted by typhoons and other storms.
The Philippines - a Spanish colony for more than three centuries and named after a 16th century Spanish king - was taken over by the US in the early 20th century after a protracted rebellion against rule from Madrid.
Spanish and US influences remain strong, especially in terms of language, religion and government. Self-rule in 1935 was followed by full independence in 1946 under a US-style constitution.
The US is a close ally and has provided military aid to help combat Muslim and communist insurgencies.
Republic of the Philippines
Capital: Manila
Population 104 million

Area 300,000 sq km (115,831 sq miles)

Major languages Filipino, English (both official)

Major religion Christianity

Life expectancy 66 years (men), 73 years (women)

Currency Philippine peso
Getty Images
President: Rodrigo Duterte
Firebrand former mayor Rodrigo Duterte came to power in a landslide victory in June 2016 after winning over voters with promises of a no-holds-barred campaign to take on crime, drugs and corruption.
His tough talking on the subjects - including a pledge to have thousands of offenders killed - scandalised the political establishment, but proved popular with Filipinos tired of the status quo.
In his first year in office, he launched a controversial anti-drugs campaign with a call to citizens and the police to conduct extra-judicial killings of suspects; thousands are thought to have died since.
Mr Duterte, who denies running vigilante death squads during his 22 years as mayor of Davao City, told the BBC in October 2016 that he had himself shot dead three men during that time, although a spokesman later said this was not to be taken literally.
The president has also suggested he wants to court China, at the expense of the Philippines' traditionally close ties to the US.
Powerful commercial interests control or influence much of the media.
The lively TV scene is dominated by free-to-air networks ABS-CBN and GMA. There are hundreds of radio stations and a vigorous newspaper scene.
The constitution guarantees press freedom, but the Philippines is one of the most dangerous countries in the world for journalists.
1542 - Spanish expedition claims the islands and names them the Philippines after the heir to the Spanish throne. Three centuries of Spanish rule fail to conquer Muslim areas in the south.
1890s - Beginnings of insurrection against Spanish rule.
1898 - During the Spanish-American War, the US navy destroys the Spanish fleet in Manila Bay. Spain cedes the Philippines to the US, which proclaims military rule and begins to forcibly incorporate Muslim areas.
1941-1944 - The Philippines are occupied by Japan during the Second World War, but are retaken by the US.
1946 - The islands are granted full independence and renamed the Republic of the Philippines.
1965 - Ferdinand Marcos is elected president; he declares martial law in 1972.
1983 - Anti-Marcos lawyer Benigno Aquino is assassinated at Manila's airport as he returns from exile.
1986 - Marcos ousted in "people power" revolt after claiming victory over Aquino's widow in an election that many believe was stolen.
2001 - President Joseph Estrada is forced out by a military-backed "people power" uprising.
2014 - The MILF rebel group signs a peace deal with the government, ending one of Asia's longest and deadliest conflicts.
2016 - President Rodrigo Duterte announces a hard-line crackdown on drugs.
2017 - Islamic State-linked militants attack the city of Marawi in Mindanao.
Related Internet Links
The BBC is not responsible for the content of external sites.