Property prices plunge after Kabul violence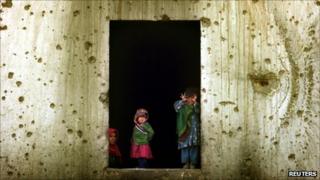 The recent string of deadly attacks in Kabul has hit another key area of Afghanistan's capital - the value of its property.
Insurgents in the past four months have demonstrated their ability to strike at will in the city, once considered a relatively safe zone in this violence-marred nation.
The growing violence has forced traders and businessmen to postpone or even abandon their plans to expand economic activities in the city.
Residents, doubtful of the ability of Afghan security forces to protect them, are also making discreet inquiries to sell off their houses and move to the outskirts.
This has led to a crash in the prices of commercial and residential properties in the city.
'Oxygen of trade'
"There are no buyers in the real estate market," says Sher Shah Ahamadzai, a 42-year-old estate agent in Kabul.
Mr Ahamadzai says that is the case even though most properties in exclusive residential areas are now available for huge discounts.
"Before the attack on the Intercontinental hotel [in August], a 1,080 sq ft plot in the plush Wazir Akbar Khan district was going for $160,000 (£101,500).
"The owner has now slashed the price to $145,000 (£91,962). Still there are no buyers," Mr Ahamadzai said.
"Security is the oxygen of trade."
Mr Ahamadzai said there had been attacks in the city before, but they were seen as an exception.
Insurgents have become more organised and more determined to strike the city now. And that is what is making people nervous and jittery.
"Six months ago, I sold a business complex in Wazir Akbar Khan for $4.2m (£2.6m). The owner wants to re-sell it now for $3m (£1.9m)," he said.
'Stab in the heart'
Inhabited by Western diplomats, international aid organisations and affluent Afghans, Wazir Akhbar Khan is considered to be a relatively secure area in Kabul.
"If this is the state of the [property] market here, you can imagine what will be happening in other, not so privileged areas," Mr Ahamadzai added.
One Afghan trader said real estate prices had fallen by 5% in just one month since the Intercontinental attack.
He said that besides the violence, continued uncertainty over US troop withdrawals had also affected property prices.
"The market in Kabul is determined not just by attacks. The question of US bases, troop withdrawals and rumours surrounding them is also harming the market," the trader said.
"I have lost $2m in the last four months buying property. If security improves, I may make up for my losses, but most likely I might not," he said.
Property dealers in the neighbouring Share Naw district say the market is flat and they are struggling to make ends meet.
"I was about to sign the sale deed for a house for $200,000 (£126,830). The buyer didn't agree over some conditions in the contract.
"I told him that we would sleep over it and discuss it the next day."
But the next day the US embassy was attacked.
The buyer returned to Dubai in the evening without signing the papers. I am ready to sell the house now for $150,000," he said.
"Every attack stabs commerce right in the heart."
'Safe in a bank'
Property dealer Haji Baqi - who owns a currency exchange shop in Kabul's main Shahzadah market - said he had lost nearly $300,000 (£191,500) in the past four weeks.
"Investors are like birds. If you fire at them, they will all fly for their own safety. Suicide attacks are scaring investors," he said.
"Within an hour of a big attack, we witness a major fluctuation in the currency market."
Most Afghan traders are withdrawing their money from Kabul and investing it in Dubai, Ukraine and Central Asian countries.
Haji Baz Mohammad is one of them. Mr Mohammad was running a business worth $5m importing wheat, sugar and cooking oil. But he decided to sell his assets and invest his money in Dubai and China instead.
"My money is now safe in a bank. I have insurance and I work in a stable market. In Afghanistan, I always ran the risk of losing all the money," Mr Mohammad said.
The authorities agree that the situation has got worse and warn that it will get even more unstable before getting any better.
"There will be similar attacks targeting Kabul. It will have an impact on trade," a senior adviser to President Hamid Karzai said.
"Security is the key for trade but also to stable life in Afghanistan."
However, there are some traders like Mr Ahmadzai who are determined to stay put in Afghanistan.
"After the attack on US embassy, my friends asked me to leave Kabul and invest my money in Dubai or somewhere else. Even my brothers said the same. But I have refused and will do so in future also," he said.
"In business, sometimes you lose and sometimes you earn. It is nothing new for me. I want to invest in my own country."