North Korea UN talks go ahead after US military drill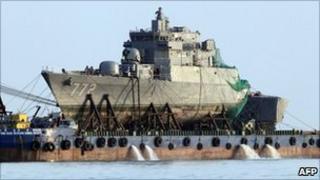 Colonels from North Korea and the US have met under UN auspices for a third round of talks.
The talks with the US-led UN Command follow a large-scale military exercise by US and South Korean troops.
China also carried out live-fire naval drills this week, state media report, while South Korea plans its own anti-submarine drill next week.
Tensions have been high on the Korean peninsula since the North was accused of torpedoing a South Korean warship.
The Cheonan sank on 26 March with the loss of 46 South Korean lives.
The US-South Korean military exercise was a four-day naval and air operation in the seas around the Korean peninsula, described as the first of a series.
It had prompted strong denunciations from Pyongyang, which had threatened to unleash nuclear retaliation if the exercises went ahead.
Instead, the UN Command talks took place at the Panmunjom border village as scheduled.
North Korea has strongly denied any role in the sinking of the Cheonan but agreed to hold tension-reducing talks under the UN Command.
These talks are intended to set up higher-level consultations. When the talks were last held on July 23, the two sides discussed forming a joint group to assess the circumstances of, and evidence on, the sinking.
The UN Command has been based in the South since the end of the 1950-53 war to enforce the armistice which ended the conflict.
There are about 28,500 US troops based in South Korea.
China, which has heavily criticised the US-South Korean exercises, said on Thursday that it too had carried out live-fire naval and aviation drills.
The exercises, involving precision strike training, were carried out on 26 July in the South China Sea, the Xinhua news agency reports.