Amnesty warns of healthcare crisis in North Korea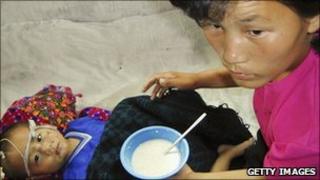 North Korea is failing to provide the most basic healthcare needs for its people, Amnesty International warns.
An investigation by the human rights watchdog found barely functioning hospitals, poor hygiene and epidemics made worse by widespread malnutrition.
Many people were also too poor to pay for treatment, the report citing North Koreans and health workers said.
Pyongyang spends less than $1 (£0.65) per person on healthcare a year, World Health Organization figures show.
Amnesty's report, The Crumbling State of Health Care in North Korea, is based on interviews with more than 40 North Koreans, who left the country between 2004 and 2009.
Health professionals who work with North Koreans were also consulted.
Starvation
Pyongyang says it provides free healthcare for its people, but witnesses told Amnesty they had had to pay for all services for the past 20 years.
One 20-year-old woman from North Hamgyeong province said: "People don't bother going to the hospital if they don't have money because everyone knows that you have to pay.
"If you don't have money you die," said the woman, who left North Korea in 2008.
Another man said that hospitals had no medicine and that if someone needed treatment, they had to go to the market and buy the drugs needed for doctors to administer.
Poor hygiene at medical facilities and a dire lack of medicines were threatening the lives of many, Amnesty warned, with people routinely trading cigarettes, food and alcohol for treatment.
A 56-year-old woman told Amnesty that her appendix was removed without anaesthetic.
"The operation took about an hour and 10 minutes. I was screaming so much from the pain - I thought I was going to die.
"They had tied my hands and legs to prevent me from moving."
North Korea faces critical food shortages following famine in the 1990s which killed up to one million people and relies on international aid.
A botched currency re-evaluation in 2009 almost doubled the price of rice overnight, and one non-governmental organisation cited in the report said thousands of people starved to death in January and February this year in one province alone.
Amnesty reports that North Korea is still battling a tuberculosis epidemic, which is being aggravated by widespread malnutrition.
"The North Korean people are in critical need of medical and food aid," said Amnesty's deputy director for Asia-Pacific, Catherine Baber.
"It is crucial that aid to North Korea is not used as a political football by donor countries."
Politically the North finds itself isolated - it has withdrawn from international talks over its controversial nuclear programme.
UN sanctions were tightened last year after Pyongyang's nuclear and missile tests.
North Korea has also suspended all ties with Seoul in the wake of the attack on a South Korean warship in March that left 46 sailors dead.
International investigators say a North Korean torpedo sank the ship, but Pyongyang has rejected this.