Uganda election: False claims about Joe Biden and others
By Peter Mwai
BBC Reality Check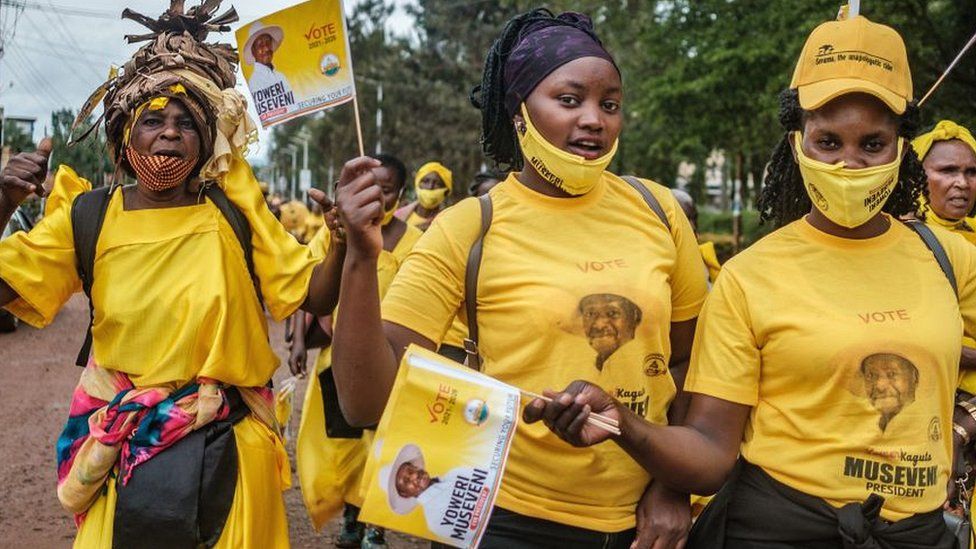 With Uganda's elections due in January, there's plenty of misinformation being shared in a heated campaign which has seen serious violence.
President Yoweri Museveni, in power since 1986, is facing a challenge from 11 candidates, amongst them a young musician known as Bobi Wine.
Some of the misinformation about the campaign involves fabricated content, and in some cases videos taken out of context.
Joe Biden isn't supporting the opposition
Our first example is a widely-shared video clip, with social media users claiming it shows US President-elect Joe Biden at an event calling for the release of Bobi Wine (real name Robert Kyagulanyi).
Some even claim it shows Mr Biden endorsing him in Ugandan elections.
The grey-haired white man speaking in the video can be heard saying: "We all care about the freedom to exercise our own religion. We all stand together, we need democracy in Uganda."
But the man speaking is not Joe Biden, and the video is two years old.
We traced it back to protests by Ugandan pro-opposition groups held in various cities around the world after Bobi Wine was detained in August 2018.
This particular event was held in Boston, and the man speaking is Nick Carter, a Democratic politician who was contesting a local election there.
We also checked with Mr Biden's media team, who told us: "The president-elect has not tweeted or issued a statement on the matter [the current elections in Uganda]."
And Barack Obama hasn't joined in either
Last month, former US President Barack Obama started appearing in pro-opposition content on social media.
Mr Obama can be seen in posts with the hashtag #FreeBobiWine, apparently under his own Twitter handle.
But there's no record of Mr Obama posting such a comment on that day, despite the screenshot indicating the tweet got nearly a million re-tweets.
It also shows a minor spelling mistake with the word "iPhone" incorrectly using an initial capital letter.
And the blue tick which would indicate an authenticated account is white.
The screenshots look similar to tweets prepared using a popular free online tool for fabricating tweets.
Did Bobi Wine avoid talking about his political record?
Pro-government social media accounts have shared posts claiming opposition candidate Bobi Wine ducked a question about his record as a member of parliament during a radio interview.
"Moderator, I do not have enough time here on radio, let's go to another question," is the answer Bobi Wine is said to have given.
But there are several things wrong here.
The image of the radio station poster being used in some posts is for Radio Wa 89.8 FM in northern Uganda.
But he'd been on that outlet back in mid-November, and these posts are all from mid-December.
They also say the interview was in Kabale in south-west Uganda, where there is a different local station called 100.4 Hills FM.
It's true that Bobi Wine was on air here on 16 December. But the station told us that he had, in fact, discussed his record as a member of parliament, talking about a number of things he had done.
"Yes, he was asked this question and he responded affirmatively on the different projects he was involved in," the radio station manager Nick Kanyesigye said.
An official from Bobi Wine's party confirmed this to the BBC, adding that he'd then asked the moderator to move on to another question, and that this was the only radio interview he gave on 16 December.
This isn't a sample ballot paper
A copy of what looks like an official ballot paper with the names of presidential candidates and party symbols has been circulating on social media.
But the country's electoral commission says the ballot paper is not one they've issued.
"The Electoral Commission has not issued a ballot paper design for the 2021 presidential elections. Please disregard it," the commission says.
There are clues to the fact that something is wrong.
In previous elections, ballot papers had the candidates' names in the first column, then their photos and party symbols, and an empty box in the last column with a space in which to mark your vote.
But the one that's been circulating has the candidate photos first.
Paul Bukenya, a spokesperson for the commission, told us it does issue sample ballot papers for voter education purposes before polling day.
But he also said they don't use the real names, pictures or symbols of candidates or political parties - just made-up ones.