Coronavirus: How fast is it spreading in Africa?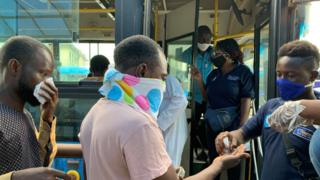 The World Health Organization (WHO) has warned that Africa might be headed for a much larger outbreak than current numbers are suggesting.
We've looked at the situation across the continent, and examined which countries are of most concern.
How fast is coronavirus spreading?
Michael Ryan, who leads the WHO's emergencies programme, has said: "I am very concerned right now that we are beginning to see an acceleration of [the] disease in Africa."
The global humanitarian relief body, the International Rescue Committee, says it believes the true scale of the pandemic may be hidden because of a lack of testing and issues with data.
In terms of confirmed cases, Africa currently accounts for only a small proportion of the global total, but the acceleration in rates of infection in some countries is of increasing concern.
The proportion of cases that are from Africa rose from 2.8% in early June to 5% of all cases reported globally by mid-July.
The upward trend is starting to resemble other parts of the world that have been badly hit by the coronavirus.
Where are Africa's hotspots?
The two countries with the highest numbers of cases are South Africa and Egypt. They accounted for 75% of all the new cases reported by mid-July.
South Africa has the highest recorded number of total cases and reported deaths, and accounts for more than half of all the cases in Africa.
It has the fifth highest number of confirmed cases worldwide, although reported deaths appear lower compared with other countries badly hit by coronavirus.
Research from the South African Medical Research Council (SAMRC) indicates the number of people who have died from the virus could be much higher than officially reported.
It says excess deaths, which is the difference between deaths reported over a particular period and the historical average, rose by 17,000 - that's a 59% increase compared with previous years.
Gauteng province, which includes Johannesburg, has seen a steady increase in cases and accounts for more than a third of the total cases. But Western Cape province (where Cape Town is located) accounts for more than half of the deaths.
Egypt has seen case numbers rising rapidly since mid-May, but there are indications that this may now have reached a peak with recorded new infections levelling off slightly in early July.
There is also concern about what is happening in Nigeria, which is third in terms of total cases recorded so far on the continent.
It's worth stressing that some parts of the continent have seen relatively few cases, such as some areas of central and East Africa.
The Africa CDC (Centres for Disease Control and Prevention) says that five countries account for more than 75% of all the reported cases on the continent.
How many people are dying in Africa?
The reported death rate per capita has been low compared to other parts of the world, despite the poor health infrastructure in many African countries.