South Africa election: ANC wins with reduced majority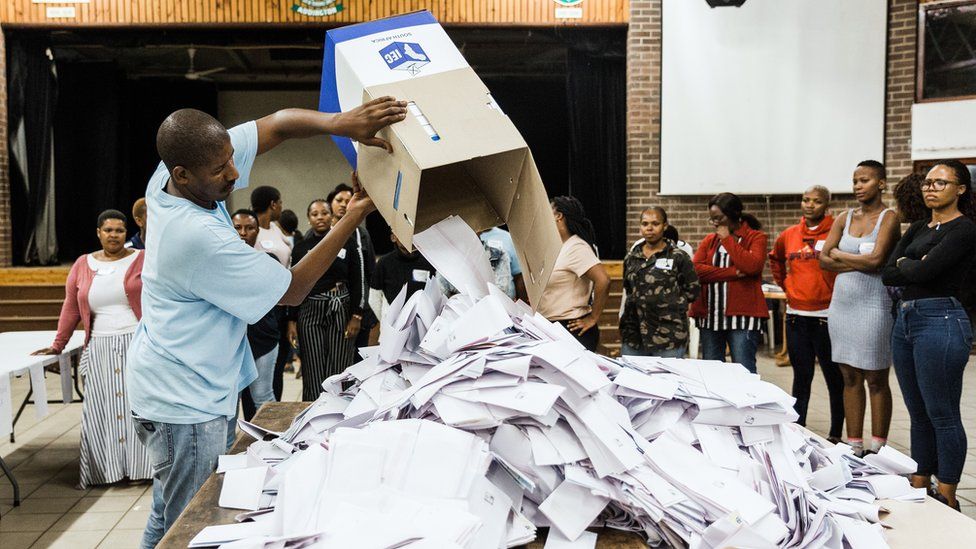 South Africa's African National Congress (ANC) has been returned to office after winning parliamentary election, but with a reduced majority.
The ANC secured 58% of the vote, ahead of the Democratic Alliance (DA) on 21%. The radical Economic Freedom Fighters (EFF), came third with 11%.
A struggling economy and corruption have eroded the ANC's popularity.
ANC leader, President Cyril Ramaphosa, called on the people to build a united South Africa.
In his victory speech, he said the result showed that South Africans still had faith in the ANC - in power since 1994 - to deliver.
"Let us now work together, black and white, men and women, young and old, to build a South Africa that truly belongs to all who live in it as proclaimed by our forebears," Mr Ramaphosa told supporters in Pretoria.
He called for a South Africa "which is united, which is non-racial, which is non-sexist, democratic and prosperous".
The BBC's Will Ross says the ANC may not be too disheartened by the reduced majority.
He says that although its support has dropped, this was not a disastrous performance and some might even be tempted to call it a fairly successful exercise in damage limitation considering the ANC's corruption scandals and the slow progress in tackling poverty.
Turnout was about 65% in the twin parliamentary and provincial elections - a drop compared to the 73% registered five years ago.
It was the first time the ANC's share of the vote has fallen below the 60% mark and it will now have 19 fewer seats in the 400-member parliament.
Disenchantment and alienation
This has been a critical election for the man promising to defeat corruption and boost a stagnant economy.
Cyril Ramaphosa will now argue that he has a mandate to create a cabinet capable of reducing unemployment that runs at 27% - more than half of it among the young. That means sidelining allies of his scandal-plagued predecessor Jacob Zuma.
They will however remain entrenched in the structures of the ANC, unless prosecutions or the reports of public inquiries into corruption force them to quit. Perceptions of honest government are critical if Mr Ramaphosa is to attract the investment South Africa needs.
This is Africa's largest economy and tackling its inability to provide jobs for the young is the great challenge ahead.
In a country where the youth have traditionally led rebellions - in 1976 and again in the mid-1980s against apartheid - the most striking statistic in this election is the fall-off in voting by young people.
More than six million did not register to take part - roughly half of those in the 18-30 age bracket who were entitled to vote.
Disenchantment over corruption and the failure to provide jobs is deep.
It is a trend of alienation that Mr Ramaphosa will need to stem if the long-term health of democracy here is to be guaranteed.
Why has the ANC lost support?
Young people queuing to vote spoke of their difficulties in finding jobs.
One young voter said her future employment prospects were on her mind. "I don't feel confident about getting the job I want," she said.
"I'm a member of the ANC, but I didn't vote for them this time," construction worker Thabo Makhene told Reuters news agency. "They need to catch a wake-up. The way they run the state, mishandling state funds, they've lost their morals."
However, many voters stayed loyal to the ANC, which led the fight against apartheid.
Esau Zwane, 90, waiting to vote in Soweto, Johannesburg, lived under white-minority rule. He told the BBC he was celebrating "that our country is now ruled by black people".
Votes are cast for parties, with seats in the 400-member National Assembly allocated according to the share of the vote gained by each party.
These MPs then elect a president.
26.76 million registered voters
55% of them are female
A record 48 parties on the ballot
28,757 voting stations
220,000 members of electoral staff
Six million young people did not register to vote
Related Internet Links
The BBC is not responsible for the content of external sites.