Algeria protests: Police use water cannon to disperse demonstrators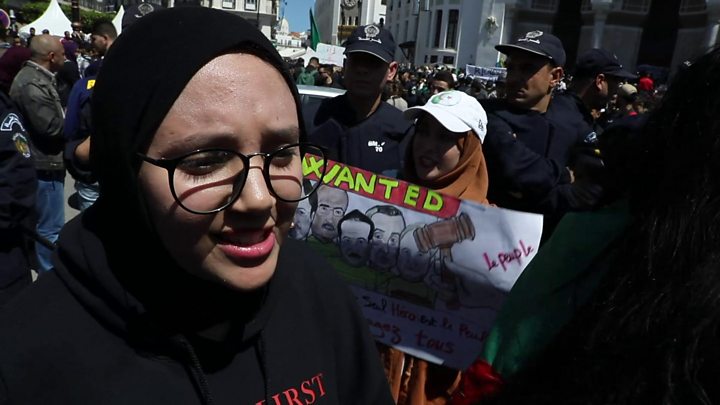 Algerian police used water cannon on Tuesday to disperse crowds demonstrating against the appointment of a new interim president.
Abdelkader Bensalah, the speaker of parliament's upper house, succeeds long-term President Abdelaziz Bouteflika, who resigned last week.
Peaceful demonstrations have been taking place for weeks, but many protesters want more radical change.
Mr Bensalah has pledged to organise free elections within 90 days.
"We - citizens, the political class and state institutions - must work to ensure the conditions, all conditions, are right for a transparent and regular presidential poll," he said during a televised address on Tuesday.
As soon as the appointment of Mr Bensalah was announced, protesters took to the streets of the capital, Algiers, demanding "Bensalah go".
The 77-year-old is seen as being very close to the ailing former president, who had been in power for 20 years.
From the start of the protests in February, the demonstrators have not just been focusing on Mr Bouteflika, Algeria analyst James McDougall told the BBC.
Placards and online posts have been demanding an end to the "system", or "Le Pouvoir", meaning that all those around the former president should also go.
Mr Bouteflika was accused of being used as a front for a group of businessmen, politicians and military officials, who are said to really run the country.
The protests have been peaceful and the security forces have not used heavy-handed tactics to break them up.
One protestor, speaking to the BBC's Orla Guerin at a demonstration, said people believed greater change would come.
"It's going to be complicated, it's going to take some time," one woman said. "It's going to take probably a long time but it's going to happen sooner or later - we believe in this."