Zimbabwe gold miners feared dead in Kadoma flood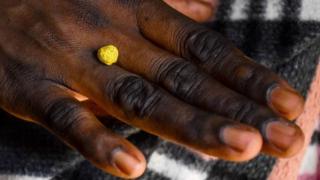 Dozens of gold panners in Zimbabwe are feared to have drowned after heavy rains flooded two mines.
Police said rescue teams were trying to pump out the water and search for bodies and any survivors at the mines near the town of Kadoma.
Anxious family members have come to the site in the hopes of finding their loved ones alive.
Reports say 38 people went underground late on Tuesday into two mines - Silver Moon Mine and Cricket Mine.
Heavy rain later destroyed a dam wall, causing the floods. Police fear there may be no survivors.
Rio Zimbabwe owns Cricket Mine. Company spokesperson Wilson Gwatiringa told the BBC that miners had illegally gained access to sealed shafts at the mine which was not in operation.
It is the third deadly mine disaster to hit the continent in recent days.
A gold mine collapsed in Liberia at the weekend, killing at least five people. Around 35 people are still believed to be missing at the unregulated site.
While in South Africa last week, a number of people were killed by a gas explosion in an underground mine.
---
'Little hope left'
Shingai Nyoka, BBC News, Harare
It is a long and arduous operation to retrieve the miners.
None have been rescued yet, according to the Civil Protection Unit (CPU) which is leading the efforts.
Water from the burst dam wall has filled the mineshafts which are up to 50 metres deep, CPU Director Nathan Nkomo told the BBC.
They are still draining water from the site and there is little hope of finding survivors.
Mining methods are often rudimentary in Zimbabwe and safety standards are largely disregarded.