Nigeria midwife murders: Brutal IS tactics rekindle new fears
By Ishaq Khalid
BBC Africa, Abuja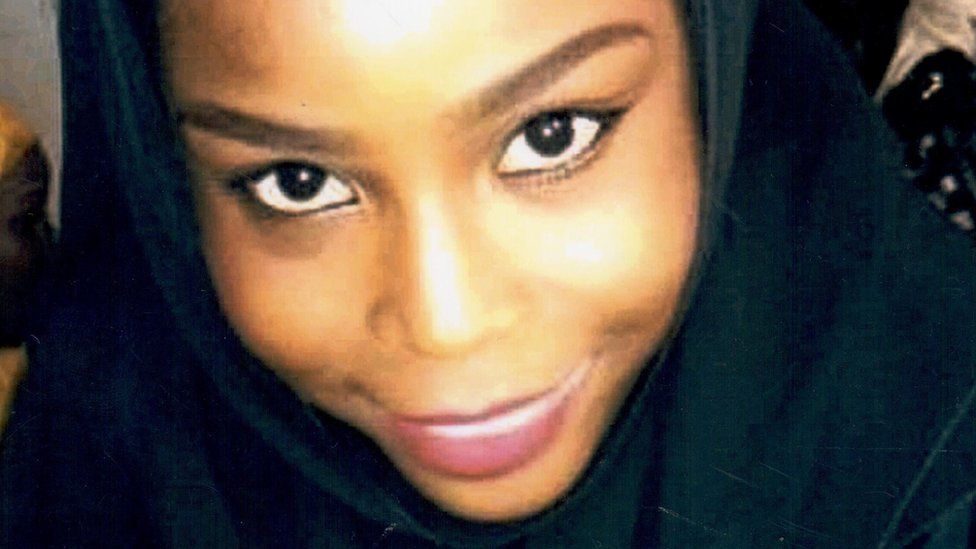 The execution-style killings of two Muslim midwives in north-eastern Nigeria have raised fears that the Islamist insurgency is far from over.
The Islamic State (IS) group and the political tensions ahead of elections in Africa's most-populous nation are being blamed for the upsurge in violence this year.
Hauwa Liman and Saifura Ahmed Khorsa both worked for the International Committee of the Red Cross (ICRC) when they were kidnapped along with another female aid worker from the town of Rann in March.
Fighters from a Boko Haram faction loyal to IS - known as the Islamic State West Africa Province (Iswap) - were behind their abduction.
Ms Khorsa, 25, was shot dead in September and a month later Ms Liman, her 24-year-old colleague, was also murdered.
Local journalists who have seen the two videos released by the jihadists after the killings say the women, wearing white hijabs, were forced to kneel down with their hands tied.
They were then shot from behind at close range.
It is not clear what demands the militants were making - but whatever they were the group says the government ignored them.
Iswap, which is believed to receive instructions from IS leadership, has raised its profile this year and was behind the kidnapping of 110 schoolgirls from the town of Dapchi in February.
Most of the girls were released after a month, except for a 15-year-old who has reportedly refused to convert to Islam and remains in captivity.
Iswap appears to be the dominant Boko Haram faction since a split in the leadership of the group emerged in August 2016.
More on life amid Boko Haram:
Boko Haram launched its insurgency nearly nine years ago taking over large swathes of land in north-eastern Nigeria where it declared an Islamic caliphate.
Its leader, Abubakar Shekau, gained worldwide notoriety five years later after kidnapping more than 200 schoolgirls from Chibok.
In the wake of this, Shekau's fighters joined IS, but it appears to have been a fractious relationship.
IS sacked him two years ago replacing him with Abu Musab al-Barnawi.
Many analysts believe Shekau - who is now rumoured to be ill - was removed because of the tactics he used, often sending child suicide bombers to launch indiscriminate attacks on civilians that included targeting places of worship.
Over the last three-and-a-half years, most areas under the militants' control have been recaptured, though the two factions have continued to carry out attacks.
But IS' influence is becoming more visible - and security analyst Abdullahi Yalwa believes some of Iswap's insurgents are possibly being trained at IS camps outside the country.
Iswap has been behind several daring and deadly attacks against the military in the last four months.
They brazenly drive in convoy in gun-mounted trucks to target soldiers in an apparent attempt to acquire more weapons and armoured vehicles.
The reticent military has not commented much on the attacks, except to say they were "fierce".
Many observers believe the authorities are cautious about revealing the actual death toll for fear of demoralising soldiers fighting the insurgents.
Founded in 2002, initially focused on opposing Western-style education
Launches military operations in 2009, going on to seize a large area where it declares a caliphate
Suspected to have split in 2012 when new al-Qaeda-lilked group, Ansaru, launches
Thousands killed, hundreds abducted, including schoolgirls, and two million displaced
Joins the Islamic State group in 2015, calling itself IS's "West African province"
Splits in 2016 after IS sacks Abubakar Shekau as leader replacing him with Abu Musab al-Barnawi
The military has retaken most territory over last three years.
It also puts in doubt a key campaign promise made by President Muhammadu Buhari when he came to power in 2015 that he would defeat Boko Haram.
And there are now growing concerns about security in Nigeria ahead of elections due in February when Mr Buhari will be seeking a second term in office.
Mr Yalwa says Boko Haram attacks are motivated by three factors:
Business - those involved using it as a means of earning a living
Ideological - militants participating because of religious indoctrination
Political - militants who are allegedly paid to fuel violence by some politicians in an attempt to discredit those in power.
He adds that with thousands of people displaced by the conflict yet to return to their communities, security is increasingly becoming a key campaign issue.
The two factions operate in different parts of the north-east.
Shekau's group is active mainly around Sambisa forest - where some of the Chibok girls were mainly thought to be held - and other areas bordering Cameroon.
Iswap is based around the Nigerian border with Niger, although they both move around the Lake Chad area.
After the split, there were reportedly deadly clashes between the factions, which has helped the military's cause.
Within Iswap there are also reported tensions.
It is believed a top commander in that group, Mamman Nur, was killed by his close lieutenants in the wake of the release of the Dapchi girls.
There is a suspicion that he unilaterally ordered the release of some of schoolgirls without any ransom payment.
According to the respected Daily Trust newspaper, this "soft approach" could not be tolerated and he was killed on 21 August.
If he is dead, it could explain the group's more hard-line approach in the last two months - and the murders of aid workers, reminiscent of IS tactics in the Middle East.
Mr Yalwa says the involvement of IS makes the insurgency more tactical, technical and complicated.
"Extra military intelligence and experience" is needed to make the security forces more proactive, he says.
Defence Minister Mansur Muhammad Dan-Ali is more upbeat, saying the recruitment of more soldiers - 10,000 are being trained every year - and better equipment will win the day in the end.
Both the UK and US are giving military support - and the government hopes to start taking delivery of 12 Super Tucano A-29 aircraft from the US next year, he says.
But for the communities in the north-east it is like deja-vu - with the vicious cycle of violence unlikely to end any time soon as both the militants and the army step up their operations ahead of the election.