Zimbabwe election: Inauguration delayed after result challenged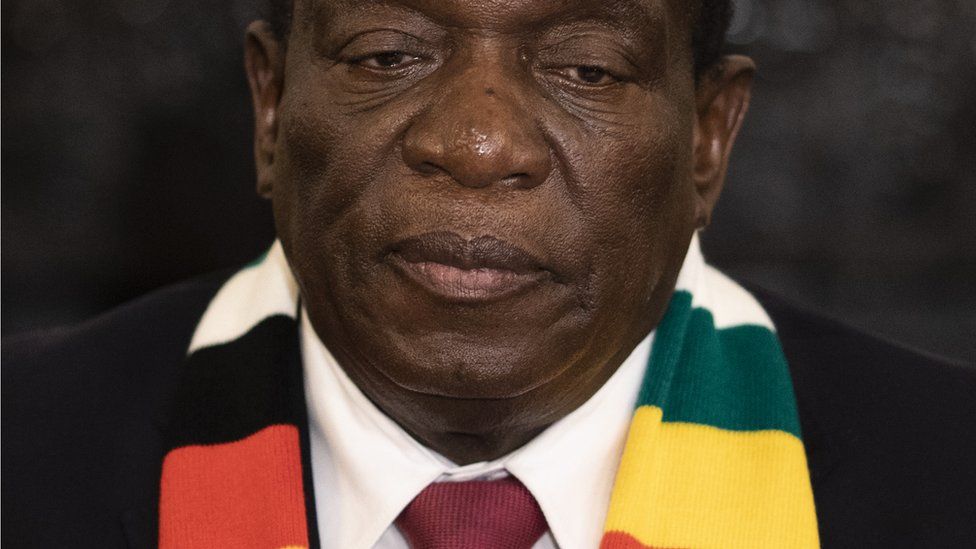 Sunday's inauguration of Zimbabwe President Emmerson Mnangagwa has been halted after a legal challenge by the opposition against the election result.
MDC leader Nelson Chamisa says he has evidence to show that he was cheated out of the 30 July presidential vote.
His party says the poll was marred by "mammoth theft and fraud", but the electoral commission insists that there was "no skulduggery".
Mr Mnangagwa won 50.8% of the vote compared with Mr Chamisa's 44.3%.
"The inauguration is no longer going ahead as planned," Justice Minister Ziyambi Ziyambi said, after the opposition filed the challenge on Friday.
Zimbabwe's constitution allows a presidential candidate to legally challenge electoral results within seven days of a winner being declared.
The Constitutional Court now has 14 days to rule on the legal challenge by the Movement for Democratic Change (MDC).
The party must prove that any irregularities were grave enough to change the outcome of the vote. If it does this successfully, the court could order a recount or nullify the result altogether.
Mr Chamisa wants the court to declare him the winner or call a fresh election, his lawyer told Reuters news agency.
"We have a good case and cause!" he tweeted shortly after filing the challenge.
There was great optimism that the elections would bring real change after the end of Robert Mugabe's 37-year rule in November.
But the MDC say the security forces have launched a brutal crackdown on the opposition following the disputed poll.
Mr Mnangagwa has appealed for peace and promised an independent investigation into the post-election violence.
By narrowly winning more than 50% of the vote Mr Mnangagwa, a member of the ruling Zanu-PF party, avoided a run-off election against Mr Chamisa.
Zambia's government rejected Mr Biti's request for asylum, and on Thursday he was released on $5,000 (£4,300) bail and ordered to surrender his passport.
Prosecutors accuse him of fuelling illegal protests by rejecting Mr Mnangagwa's victory in the fiercely contested elections.
Mr Biti is the first senior opposition politician to be detained since Mr Mnangagwa took over from Mr Mugabe.