Zimbabwe election: Army patrols ghost town Harare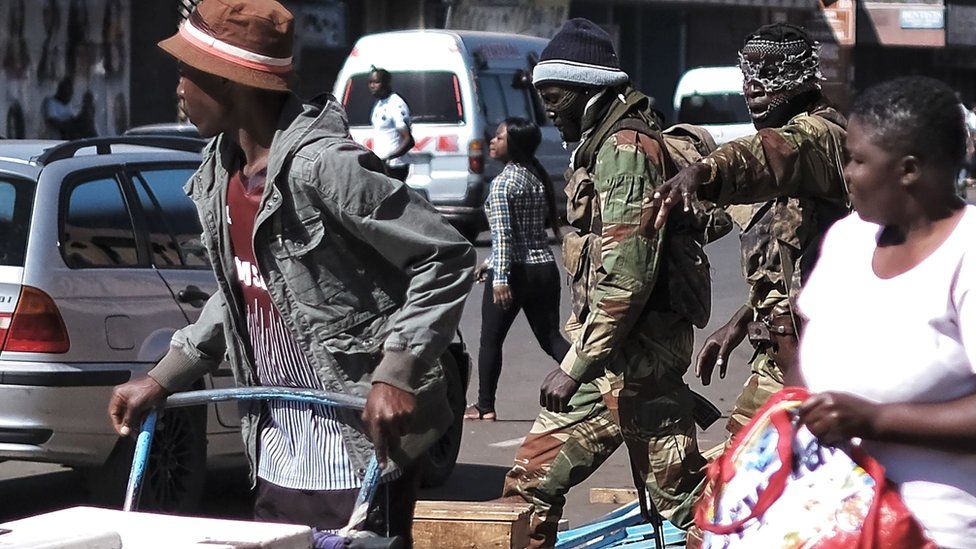 Zimbabwe's capital, Harare, is a ghost town as most people stay indoors ahead of the release of disputed presidential election results.
Troops patrolled the city centre, ordering people to "behave".
Six people were killed after Wednesday's clashes in the city between the security forces and supporters of opposition leader Nelson Chamisa.
He says Monday's polls were being rigged to give President Emmerson Mnangagwa victory.
The Zimbabwe Electoral Commission (Zec) said there was "absolutely no skulduggery", and it would begin releasing presidential results at 20:00 GMT.
Mr Chamisa insists he has won, and has called on his supporters to await "mass celebrations".
The elections were the first since long-time ruler Robert Mugabe, 94, was ousted in November.
The polls were intended to set Zimbabwe on a new path following Mr Mugabe's repressive rule.
However, Mr Chamisa's MDC Alliance has accused the military of using excessive force to quell Wednesday's protests.
Mr Mnangagwa said the government was in talks with Mr Chamisa to defuse the crisis and proposed an independent investigation to bring those who were behind the violence to justice.
Has his plea been heeded?
No violence was reported on Thursday. A truckload of armed policemen and soldiers were driving around the city shouting, "Behave yourself, people of Zimbabwe."
Riot police raided the headquarters of the MDC Alliance, and detained about 10 people.
A BBC reporter in Harare says the city centre is like a ghost town.
Police said three people died in hospital, bringing to six the number killed in the unrest.
Another 14 people were injured in the violence, police added.
In his first public appearance since the election, Mr Chamisa visited some of them in hospital.
He said the MDC Alliance accepted defeat in the parliamentary election, but not in the presidential poll.
Zanu-PF, in power since the country gained its independence 38 years ago, has won a two-thirds parliamentary majority.
'Winners and losers in every match'
By Pumza Fihlani, BBC News, Harare
There is an air of nervousness tonight in Harare, an opposition stronghold which usually has a bustling city centre.
Earlier, I was in the small town of Concession, an hour's drive north of the capital. It is a Zanu-PF stronghold, and the mood there was carefree and jovial. Locals have elected a Zanu-PF MP again, and expect to walk away with the presidency as well.
Patience Simeon, 29, told me: "The MDC need to know that Harare is not Zimbabwe. We have also lost seats in other parts of the country but did not go to the streets. Why turn a peaceful election into violence? What happened on Wednesday is wrong."
Lloyd Chingulu, also 29, agreed, saying: "I don't know why people are panicking. If they lose they must accept the result. There are winners and losers in every match."
Nevertheless, one thing became clear from my conversations with people in Harare and Concession. They want the same thing - the economy to grow and for jobs to be created. But for that to happen, they may need to set aside political rivalries.
How have foreign powers responded?
UN Secretary General Antonio Guterres urged Zimbabwe's politicians to exercise restraint, while UK foreign office minister Harriett Baldwin said she was "deeply concerned" by the violence.
The US embassy in Harare advised its citizens to avoid the city centre, following Wednesday's unrest.
In a message to Zimbabwe's politicians, the embassy said there was a "historic opportunity to move the country towards a brighter future".
"Violence cannot be part of that process," it added.
China, Zimbabwe's main international ally, said it hoped all sides would put the country's interests first following a "generally peaceful and orderly" election.
What happened after the vote?
The day after the election, the MDC Alliance said Mr Chamisa had won the presidential election, pre-empting an official announcement and prompting its supporters to celebrate in some areas of Harare
When Zec announced that Zanu-PF had won the parliamentary vote by a landslide on Wednesday, things turned nasty.
The opposition supporters were are also angered by the delay in announcing the presidential results.
Home Affairs Minister Obert Mpofu said the government would not tolerate such protests.
The opposition "are testing our resolve, and I think they are making a big mistake", he said.
A spokesman for Mr Chamisa condemned the deployment of soldiers and the subsequent loss of life.
More on post-Mugabe Zimbabwe:
"Soldiers are trained to kill during war. Are civilians enemies of the state?" he asked.
"There is no explanation whatsoever for the brutality that we saw."
Which results have been declared?
Zec has announced all parliamentary results, giving Zanu-PF 144 seats, the MDC Alliance, which is made up of seven parties, 64 and the National Patriotic Front, formed by Mugabe loyalists after he was ousted, one.
Although Zanu-PF won by a landslide, its majority has shrunk since the 2013 election when it obtained 160 seats and the MDC, then led by the late Morgan Tsvangirai, 49.
More than five million people were registered to vote in Monday's poll, and there was a turnout of 70%.
Zec said the verification of the presidential election result was "going very well".
There had been a delay because of the need for party agents to verify the result, it said.
The electoral commission confirmed on Thursday that its website had been hacked, saying it took it down "within 11 minutes" of the attack.
In terms of the law, Zec has until Saturday to announce the result.
A presidential candidate needs more than 50% of the vote to win outright. Otherwise, a run-off election will be held on 8 September.
What are election observers saying?
The European Union and Commonwealth missions criticised the delay in announcing the presidential results.
This is the first time in 16 years that the government has allowed EU, Commonwealth and US election monitors into the country.
The Commonwealth said parties should use "all available conflict resolution mechanisms" to resolve differences.
"The electoral process is yet to be concluded. The greatest test of leadership is called for now," its mission said.