Eritreans hope for democracy after peace deal with Ethiopia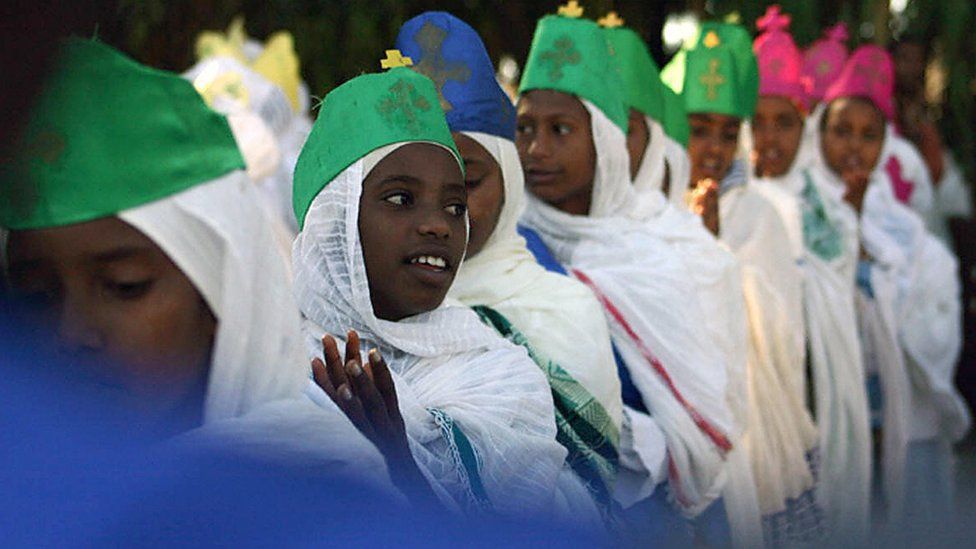 With Eritrea the only one-party state in Africa, many of its citizens are hoping that President Isaias Afwerki will introduce sweeping political reforms following the end of the "state of war" with neighbouring Ethiopia.
Mr Isaias has been in power since leading Eritrea to independence from Ethiopia in 1993.
He was heavily influenced by Marxism during his early political career and - unlike other African leaders - has so far resisted pressure to embrace multi-party democracy.
His grip on power was strengthened following the outbreak of a border war with Ethiopia in 1998. Tens of thousands of people were killed in the conflict,
Mr Isaias and Ethiopia's Prime Minister Abiy Ahmed signed a declaration last week to end the "state of war", and to resume ties between the two nations.
BBC Tigrinya's Desta Gebremedhin writes about the basic freedoms that many Eritreans are now yearning for:
Eritrea has no opposition parties, and has never had a national election.
In fact, there are no limits to the president's powers. Some of his critics say he is like a supreme leader who is more powerful than the ruling party, and the national assembly, or parliament.
They point out that the national assembly last met in 2002, and Eritrea's only legally recognised party, the People's Front for Democracy and Justice (PFDJ), last held a national congress in 2002.
The PFDJ has a Soviet-styled central committee - its 75 members automatically qualified for seats in the national assembly while another 75 were chosen mostly from elected regional assemblies.
Many Eritreans long for the constitution, which envisages multi-party democracy, to be implemented.
It was drafted when Eritrea was still gripped by the euphoria of independence, and ratified in 1997.
It was shelved the following year after the outbreak of the border war with Ethiopia.
Eritreans have lived under a virtual state of emergency since then.
Several government ministers, military generals and prominent officials demanded the constitution's implementation, following the signing of an earlier peace agreement with Ethiopia, in 2000.
The government ignored their demand and, instead, detained 11 of them. They include three former foreign ministers - Mahmoud Ahmed Sherifo, Petros Solomon and Haile Woldetensae. They have never been charged or convicted and their whereabouts remain unknown.
Exiled activists in Europe and North America say Mr Isaias should release prisoners as the first step towards making Eritrea a multi-party democracy.
They point out that Mr Abiy has also released thousands of prisoners in Ethiopia, showing that he was genuine about achieving national reconciliation with opposition groups.
End to indefinite national service
Introduced in 1995, national service is compulsory for all Eritreans.
In the beginning, all citizens were supposed to undertake 18 months' national service - including six months' military training. However, the terms of service become indefinite in 2002, as the government said the country remained under threat from Ethiopia.
Young Eritreans begin their national service when they complete their penultimate year at school. Then they go to the Sawa camp, where they complete their final year at school and receive military training at the same time.
More about Ethiopia and Eritrea:
The students live under military rules and regulations, and their movement is restricted.
As a result, national service, once a source of pride for Eritreans, has led to many young people fleeing the country, risking their lives to reach Europe via the Sahara desert and Mediterranean Sea.
Many young people want indefinite national service to be scrapped so that they can pursue their studies, and fulfil their career dreams.
Eritrea has one of the world's worst records when it comes to media freedom.
The government shut down all private media in 2001 to suppress calls for multi-party democracy.
At least 10 journalists were arrested following the clampdown on the press, according to the international media watchdog body, the Committee to Protect Journalists.
The government said these newspapers were financed by foreign governments to distort the political situation in the country.
It also said that some of the journalists had been arrested because they had not performed national service.
Only state media operates in Eritrea: TV-Ere; Radio Dimtshi Hafash and four newspapers published in the most-spoken languages - Tigrigna, Tigre, Arabic and English.
The government recognises only four religions - Orthodox Christianity, Sunni Islam, the Roman Catholic Church, and the Evangelical-Lutheran church of Eritrea.
Other religious groups are considered illegal. The government says they are instruments of foreign governments.
The US government's Commission on International Religious Freedom estimates that thousands of Eritreans have been detained because of their faith.
The prosecution of Jehovah's Witnesses started shortly after independence - they had refused to vote in the referendum which led to Eritrea seceding from Ethiopia.
Jehovah's Witnesses have been denied citizenship, identity cards and business licences because of their refusal to participate in "earthly" political affairs, including doing national service.
Many Eritreans hope to see a nation where its citizens can practise their faith freely.