Zimbabwe Bulawayo blast: Two die after attack on Mnangagwa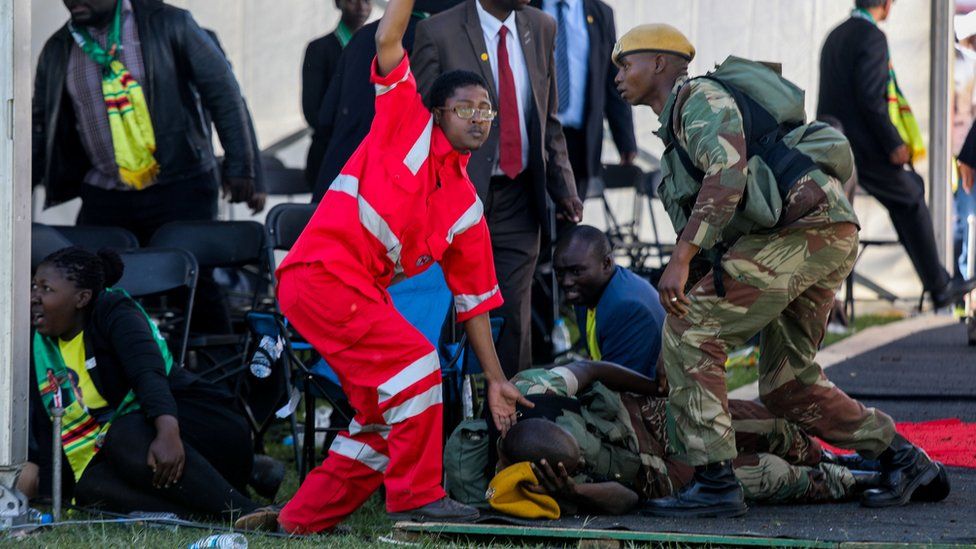 Two people injured in Saturday's explosion at a campaign rally in Zimbabwe's second city of Bulawayo have died, a medical official has said.
Solwayo Ngwenya, clinical director of the city's Mpilo hospital in the city, told AFP other victims had life-threatening injuries.
At least 49 people, including President Emmerson Mnangagwa's two deputies, were injured in the blast.
He said it was an attempt on his life ahead of the 30 July election.
This is the first poll since long-time leader Robert Mugabe was forced from power last year.
Mr Mnangagwa has vowed that the attack would not derail the election.
He is favourite to win the poll, but analysts say he also has enemies - both for overthrowing his former mentor, and for being a previous enforcer of Mr Mugabe's government.
His main rival, Nelson Chamisa, has also condemned the attack, for which there has been no claim of responsibility.
The president told state media that an object "exploded a few inches away from me - but it is not my time". "I am used to these attempts," he added.
The names of the dead have not been released but one is reported to work for Vice-President Constatino Chiwenga.
Eight senior officials suffered non-life-threatening injuries.
Video footage from White City Stadium, where the campaign event was being held, shows an explosion happening close to the president as he leaves the stage after addressing supporters.
Police have now offered a reward for information about the suspects.
Sources close to the investigation say they believe a grenade was hurled at the event, the BBC's Shingai Nyoka reports from Harare.
His spokesman said that while the president was unhurt, Vice-President Kembo Mohadi suffered a leg injury, while Mr Vice-President Chiwenga received bruises to his face.
The campaign rally in Bulawayo was Mr Mnangagwa's first in the city, which is an opposition stronghold.