Ethiopia offers Eritrea chance to end Africa's longest war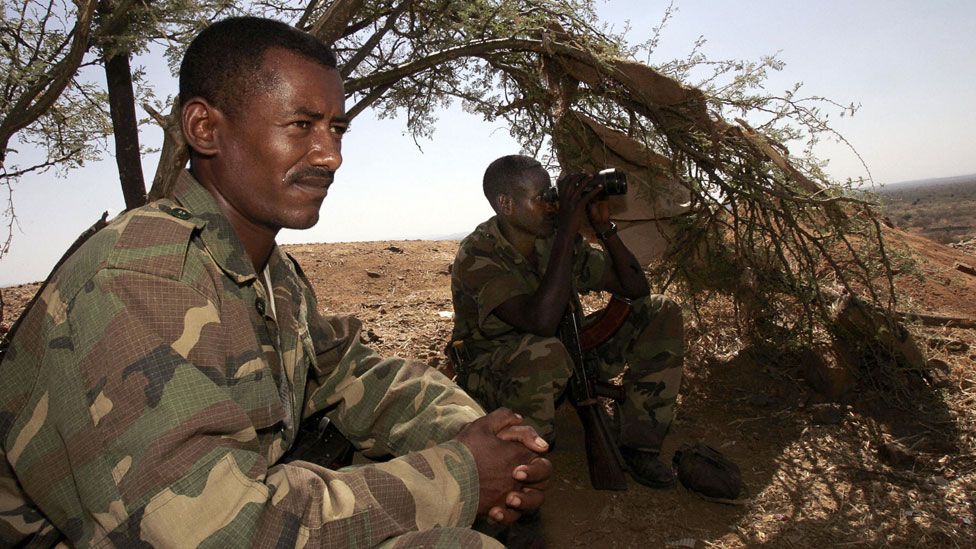 Ethiopia's surprise announcement that it will abide by a 2002 border ruling raises the prospect of a final end to what was Africa's deadliest border war and peace with its long-time rival, Eritrea.
Tens of thousands of people were killed in the two-year conflict and Eritrea remains on a war footing, demanding that Ethiopia withdraws from the "occupied territory".
How genuine is this peace offer?
Ethiopian Prime Minister Abiy Ahmed signalled in his inauguration speech in April that a major policy shift could be in the offing - he called on Eritrea to resolve their differences, saying the two neighbours were "not only intertwined in interests but also in blood".
Now, the ruling Ethiopian People's Revolutionary Democratic Front (EPRDF) has announced it will fully accept and implement the peace deal that ended the war.
Mr Abiy said soldiers deployed to the contested town of Badme had experienced "psychological effects", according to the state-linked Fana Broadcasting Corporate.
"We should end this suffering, and fully return to peace," the prime minister is quoted as saying.
Ethiopia's previous leaders always said they accepted the 2002 ruling but they never actually implemented it.
Eritrea has not commented on Ethiopia's announcement but Information Minister Yemane Gebre Meskel had previously told the BBC that relations could not be resolved until Ethiopia withdrew "from the occupied territories".
"The ball is now in Eritrea's court," Tesfalem Araia from the BBC's Tigrinya service says.
"Eritrea has been on a war footing and the justification for forced conscription into the army has been the conflict with Ethiopia," he adds.
That forced conscription is the reason given by most of the thousands of Eritreans who flee the country, making the perilous journey to Europe.
24 May 1993: Eritrean independence from Ethiopia officially declared
6 May 1998: Border war begins
18 June 2000: Agreement on Cessation of Hostilities signed
12 December 2000: Algiers Peace Agreement signed
13 April 2002: The Eritrea-Ethiopia Boundary Commission delivered its "final and binding" ruling
Until now, this has been impossible because it is a military zone.
The main bone of contention is the town of Badme, the main focus of the war, but there are other disputed areas right along the border.
What's happening in Badme?
Badme is a nondescript, heavily militarised small town with little or no social activity.
More than 1,000 people live there, with almost all their activities limited to military services, says the BBC's Berihu Lilay, who visited the town in January.
He says he saw Eritrean and Ethiopian forces sitting in neat rows facing each other across the border, with just a few kilometres separating them.
Residents told our reporter they look forward to peace between the two nations.
Despite the strain, the 16-year standoff has not cut the ancient ties between the two border communities who both belong to the Tigrinya ethnic group, our reporter says.
A potential flashpoint, he says, which will need to be negotiated delicately, is the fate of a graveyard where thousands of Ethiopian soldiers, including top army leaders, who died in the conflict have been buried.
It seems as though everything is changing pretty fast in Ethiopia, since Mr Abiy came to power.
Just a few months ago, a state of emergency was imposed following the resignation of Hailemariam Desalegn as prime minister. He said he was standing down in order to end months of anti-government protests, which had led to many deaths and arrests.
Since taking office, Mr Abiy has moved fast to spend the political capital he had earned after gaining the backing of the EPRDF to become prime minister.
Three months in, he has managed to get the ruling coalition to back his policies including the lifting of the state of emergency.
Being the leader of the Oromo People's Democratic Organisation (OPDO), one of the four ethnic parties which make up the EPRDF coalition, provides him with a solid political base to implement his policies.
He has also in a short time managed to assert his authority and created excitement in the country about his leadership.
"There's palpable optimism about Mr Abiy in the country," says the BBC's Emmanuel Igunza in Addis Ababa.
There are, however, some reservations in the EPRDF coalition, especially from the Tigrayan People's Liberation Front ( TPLF), which has controlled the political and military establishment since the creation of the coalition in 1991.
Protests, for example, have broken out against Mr Abiy's plan to surrender disputed border territories, including the town of Badme, to Eritrea.
In what appeared to be another direct challenge to his reforms, an explosion rocked a 23 June rally organised to support his reforms, leaving two people dead and dozens injured.
The prime minister described the attack as an "unsuccessful attempt by forces who do not want to see Ethiopia united."
He said he would not be deterred to push on with the changes, and welcomed an Eritrean delegation to Addis Ababa days later.
"Love always wins. Killing others is a defeat. To those who tried to divide us, I want to tell you that you have not succeeded," Mr Abiy added.
Some 30 suspects, including military and intelligence officials, have been arrested in connection with the blast.
Few would have predicted that the opening of the first Pizza Hut in Addis Ababa in April was an indicator that Ethiopia was opening up its state-controlled economy.
At the same time as the announcement was made about respecting the border ruling, the ruling coalition also said it had approved a policy to loosen the state's grip in the energy, telecoms, logistics and aviation sectors to allow private domestic and foreign investment - another huge shock, with potentially massive implications.
Investors will be able to acquire a limited stake in Ethio Telecom, Ethiopian Airlines, one of Africa's largest and most successful airlines, Ethiopian Electric Power and Ethiopian Shipping and Logistics Services Enterprise.
Investments in the telecommunication sector could help improve mobile and internet services which have not seen the same rapid expansion as in the rest of the world.
Until now, a state firm has had a monopoly on internet access, which remains costly and slow.
Analysts see the liberalisation, however limited, as part of the government's plan to rescue the economy, which had been one of the fastest-growing in Africa.
The IMF forecasts that Ethiopia will have 8.5% growth this year, down from a consistent 10% in the last decade.
Hallelujah Lulie, an analyst on Horn of Africa affairs observes: "As things stand now, there is a fine line between buying state enterprises and buying the state in Ethiopia. We don't want a transition from an authoritarian state to a private tyranny. The decision to partially privatise some of the commanding heights is unwise to say the least."
Despite these reservations, it seems as though there is a real chance that Ethiopia, Africa's second-most populous country, could be about to change from a tightly-controlled state under the permanent threat of war, to a place where citizens may be able to enjoy more freedom on a number of different levels.