Burundi village attack leaves 26 dead ahead of referendum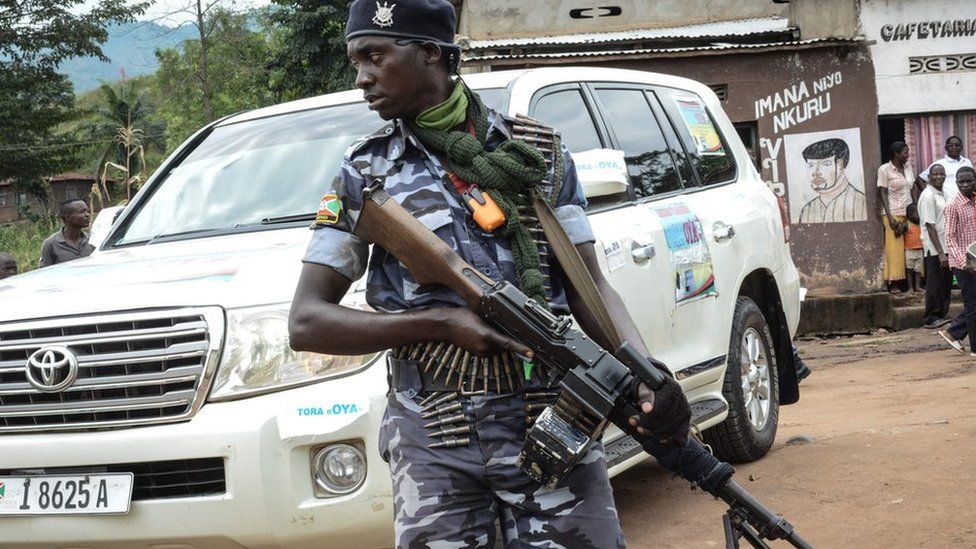 At least 26 people were killed after armed attackers targeted a village in north-west Burundi, amid tensions ahead of a controversial referendum.
The group crossed from the Democratic Republic of Congo into Cibitoke province, officials said.
They went house to house with guns and knives, burning homes, witnesses said.
Correspondents say the attack may have been an attempt to disrupt next week's referendum which could extend the president's term until 2034.
President Nkurunziza has ruled Burundi since the civil war ended there in 2005. His attempt to run for a third term in 2015 plunged the tiny central African nation into fresh turmoil.
Security Minister Alain Guillaume Bunyoni described the attackers in a statement as "terrorists coming from and returning to Congo."
He said the victims were "shot and burned". Twenty-six were killed and seven wounded.
Witnesses described to the AFP news agency hours of violence that began late on Friday night.
"These criminals went house to house and committed real carnage," one local official said. "Some of the victims were stabbed, others were shot, there is even a whole family that was burned alive in their home."
It is not known who carried out the attacks, but some are blaming exiled opposition groups who are based outside Burundi and have vowed to disrupt the 17 May referendum.
Critics say a cult of personality is developing around Mr Nkurunziza, a former Hutu rebel leader who was the first president to be chosen in democratic elections since the start of Burundi's civil war in 1994.
A "yes" vote in the referendum would allow him to stand for a further two seven-year terms from 2020.