How Nigeria's cattle war is fuelling religious tension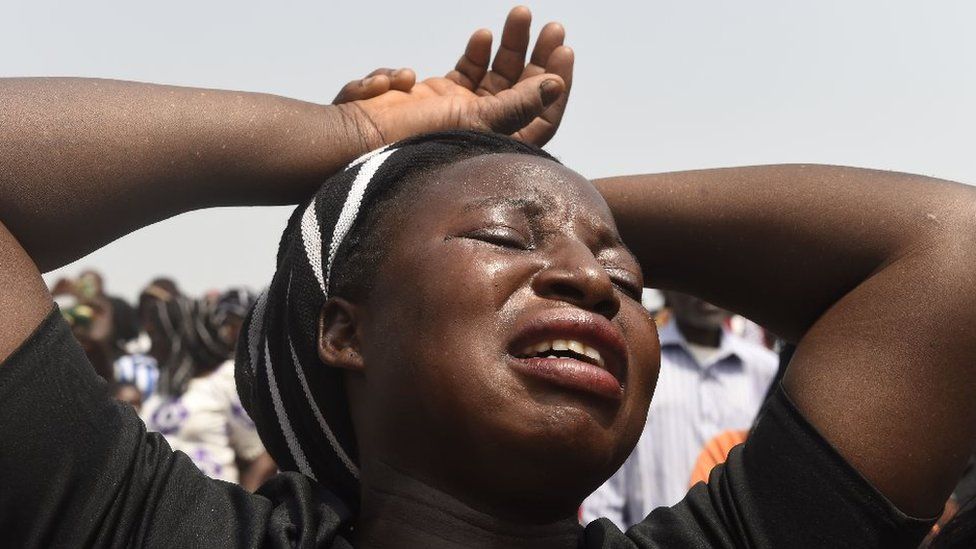 A long-running conflict between cattle herders and farmers in central Nigeria is increasingly assuming a religious dimension, writes the BBC's Mayeni Jones after visiting Benue state.
Sebastian Nyamgba is a tall, wiry farmer with sharp cheekbones and piercing eyes.
He guides me to a small bungalow adjacent to the local church, St Ignatus. It was the home of local priest Father Joseph Gor.
"This is his blood," he says, as he points to faint pink splatters on the wall of the porch of the house.
"This is where he was killed. They shot him as he was getting on this motorbike to escape and his blood sprayed on the wall."
Father Gor was killed in the compound of his Catholic church, in the small village of Mbalom, about an hour's drive south from the capital of Benue state, Makurdi.
Father Gor was a charismatic young preacher, who was popular with the local community. He had bought a TV and satellite dish and invited the locals to watch football games.
"He used to farm with us," says Mr Nyamgba, who was one of his parishioners.
On the morning of 24 April, Father Gor was killed with another priest, Father Felix Tyolaha, who had previously survived an attack by alleged herders in Benue's Guma region.
The two priests were discussing their plans for the morning mass when gunmen emerged out of a nearby disused building and began shooting.
Father Gor was killed first, then Father Tyolaha, as well as 15 of their parishioners.
The killings sent ripples through the country. Within hours President Muhammadu Buhari called the attack "vile and satanic", adding that it was an attempt to stoke religious conflict between Christians and Muslims.
The Christian Association of Nigeria called for a national day of protest against the killings. The Muslim Rights Concern group condemned the attack, describing it as "wicked, repulsive and barbaric".
And a week later, as President Buhari was received at the White House, US President Donald Trump lamented the killing of Christians in Nigeria, a remark many saw as a reference to the incident.
Back in Mbalom, Mr Nyamgba is adamant that the killers were herders from the Fulani ethnic group. He says he heard them speak Fulani as a he ran away. Beyond their ethnicity, he was less able to tell me why he thought they were herders.
Herders in the region tend to be Fulanis, who are predominately Muslim, but there was no solid evidence that the attack was carried out by them.
The assailants took money, valuables and communion wine. They burnt a couple of shops but left most of the village untouched, suggesting the attackers did not aim to take over land and deter villagers from coming back. They also did not return with cattle as might have been expected.
They are believed to be the largest semi-nomadic group in the world and are found across West and Central Africa - from Senegal to the Central African Republic
In Nigeria, some continue to live as semi-nomadic herders, while other have moved to cities
Unlike the more integrated city dwellers, the nomadic groups spend most of their lives in the bush and are the ones largely involved in these clashes
They herd their animals across vast areas, frequently clashing with farming communities
They are often linked with another group, the Hausas, having lived together for a very long time. Some refer to the Hausa-Fulanis but they are different groups
The Fulanis played a key role in 19th Century revival of Islam in Nigeria.
The killings have taken place in the midst of the expanding cattle conflict between settled farmers, who are mainly Christian, and largely nomadic herders.
The Fulani herdsmen travel large distances in search of pasture with their cattle, and have frequently clashed with farmers over resources.
Disagreements over the use of grazing areas, water and farmland have been the major source of the fighting.
Farmers accuse the herders of damaging their crops, the herders blame the farmers for killing their cattle, and the issue has resulted in the death or destruction of communities.
There have been clashes of this kind for several years in Benue. But following the implementation of a law banning open grazing in Benue in November last year, the central Nigerian state has seen a new wave of violence, with reports of fatalities on both sides.
"Now the killing is almost getting out of hand, despite the government bringing their security personnel"
In January, more than 70 people were killed, prompting the army to deploy special forces to Benue and the neighbouring states of Nasarawa and Taraba.
Local political and religious leaders have sought to paint the conflict as being between between Muslims and Christians.
Father Amos Mbachie, parish priest of the St Theresa Parish in Makurdi, believes the violence now has a religious motivation.
"People come occupy and start building mosques. They know these are indigenous Christian communities, but they come here, they send people away, they stay there and then they start practicing their own religion...They burn churches, they kill priests."
Humanitarian groups paint a more nuanced picture. Israel Okpe, a programme officer for Pastoral Resolve, a non-governmental organisation that provides mediation training to local communities, says there are pastoralists who are settlers and others who migrate.
He says settled herders and farmers tend to get on well. Misunderstandings arise when migrant herders arrive in the area, allow their cattle to graze on farmland, move on, and leave settled herders to take the fall.
When Mr Okpe started working with farmers and pastoralists in 2012, they would often work together.
During the harvest period, pastoralists would help farmers harvest crops. Farmers would then allow the pastoralists' cattle to graze on the remaining stalks. He says they would also lend each other money.
The relationship has deteriorated for a number of reasons, including an increase in Nigeria's population and improvements in farming techniques. This has enabled farmers to grow their crops more efficiently and left less space on farms for grazing routes, he says.
'Herders feel persecuted'
Mr Okpe also blames the recent wave of violence on a new anti-grazing law, which has made herders vulnerable to attacks by farmers who now feel justified in driving them off their land, sometimes violently.
"Before the law we used to have some minor attacks, killings but not as many as now. Now the killing is almost getting out of hand, despite the government bringing their security personnel," he says.
Many of the herders have had to move to the neighbouring state of Nasarawa to avoid the five-year jail sentence that comes with being caught grazing in Benue.
A number of them have clustered around the dusty town of Tunga, where they struggle to find enough pastures for all of their cows to eat.
Malam Saleh Fulani, herder
"The [state] government should remove the anti-grazing law because we're also Nigerians and Benue is where we were born and brought up"
The pastoralists say their animals are dying and they're the ones being driven out of Benue.
The grazing law requires them to ranch but they say they have received no support from the government to do so.
Herder Malam Saleh Fulani says he has been back and forth between Benue and Nasarawa over the years but that this is the first time he has been prevented from grazing or going back to Benue.
"The [state] government should remove the anti-grazing law because we're also Nigerians and Benue is where we were born and brought up."
It is hard to see how he'll be able to go home.
Nigeria is holding presidential and parliamentary elections next year, and the conflict is becoming increasingly politicised.
President Buhari is Fulani himself and locals in Benue claim neither he nor the armed forces are being tough enough on the herders.
At the same time, herders feel persecuted but are still determined to access pasture for their cattle.
The government and security forces have not been able to bring the security threat under control.
But the government needs to stem the violence in the central states to stop it exploding into an unmanageable conflict, especially as it still battling militant Islamists group Boko Haram in the north-east.