South Sudan: US bans arms sales and urges others to follow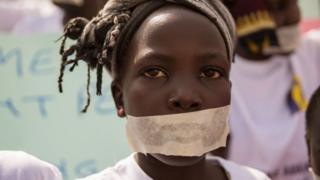 The United States has banned the export of weapons to South Sudan and has urged other nations and the UN to adopt a global arms embargo.
It is a largely symbolic move, as the US does not export arms to South Sudan.
But the move prevents any US company or citizen from offering defence services to the country.
The US has expressed frustration with the failure of South Sudanese leaders to put an end to the country's four-year civil war.
Late last month, the US ambassador to the UN, Nikki Haley, announced that Washington had given up on President Salva Kiir, calling him an "unfit partner" in the pursuit of peace.
South Sudan's leaders aren't just failing their people, "they are betraying them," Ms Haley said.
South Sudan is the world's youngest country, having gained independence in 2011.
About a third of South Sudan's population has been displaced by the conflict, which broke out in December 2013 between supporters of President Kiir, an ethnic Dinka, and his deputy Riek Machar, an ethnic Nuer. Mr Machar is now in exile.
Numerous ceasefires have been broken and tens of thousands of people killed, but there is no UN arms embargo on South Sudan, as attempts to do so have been stymied by Russia and China.
Restricting arms flows to South Sudan will be hard, says the BBC's Africa editor Mary Harper. The country is already awash with weapons and more come in via neighbouring states.