Croatia national shot dead on South Africa lion hunt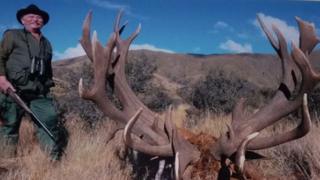 A Croatian national has died in unclear circumstances while hunting lions with two friends in South Africa.
Pero Jelinic, 75, was hit by a bullet on Saturday at Leeubosch Lodge farm, about 355km (221 miles) west of Johannesburg, police said.
"At this stage it is not clear who fired the fatal shot that killed Mr Jelinic," a police spokeswoman said.
One of Mr Jelinic's hunting friends said it had been an accident but police have opened a culpable homicide case.
They say Mr Jelinic was shot after the hunters had already killed one lion and were tracking a second.
The injured man was airlifted to hospital but died shortly afterwards.
Police are also investigating whether the hunters had illegal guns while hunting lions bred in captivity, police spokeswoman Charlize van der Linden told news24 website.
The death of Pero Jelinic was first reported over the weekend but his hunting friend later gave more details to Croatian media about what had allegedly transpired on Saturday.
Diva Curlic told 24sata website Mr Jelinic's death during a morning hunt had been an "accident" - not "murder".
Mr Jelinic - from the island of Pag in the Adriatic Sea - was an experienced hunter who had travelled all over the world in pursuit of his passion, his friends say.
Animal rights activists have been pushing South Africa to ban the hunting of lions bred in captivity - a practice known as "canned lion" hunting.
South Africa is the world's biggest exporter of animal heads - mainly to hunters who pay thousands of dollars to hunt lions and take their heads home as trophies.