Cape Town water crisis: 'My wife doesn't shower any more'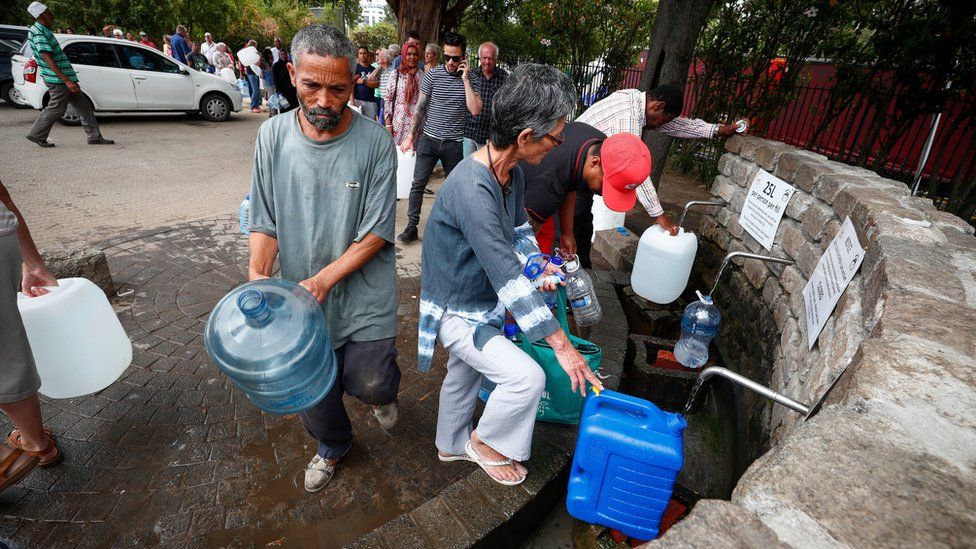 The BBC's Mohammed Allie is one of millions of people trying to stave off Day Zero - the day the taps in the South African city of Cape Town will run dry. Here, he tells us what life is like when you have just 50 litres of water a day.
My wife does not use the shower any more. Instead, she boils about 1.5 litres of water and mixes it with about a litre of tap water to have her daily wash while the rest of us catch the slow running water in a bucket for re-use in the toilet cistern.
As for flushing, which in the past would have used around six litres at a time, we have adopted the popular slogan: "If it's yellow let it mellow and if it's brown flush it down."
Like most residents of Cape Town, my household of four has had to change our habits to conserve water. A bucket and jug have now become essential tools for me and my children when taking a quick two-minute shower.
In the height of summer, it doesn't feel like much.
A severe drought has forced the city's municipality to limit water consumption to 50 litres per person per day in an effort to delay what has become known as Day Zero, which has been set for 12 April, when the water supply will be shut.
It isn't easy to reduce to just 50 litres a day per person: South Africa's WaterWise notes a typical shower uses 15 litres per minute, while a standard toilet consumes 15 litres per flush.
But failure to stick to the limit only means one thing: Day Zero will get even closer in the city of more than four million people.
A stone's throw from Newlands' famous stadiums, hundreds of concerned Capetonians queue, an hour before sunrise, outside the gates of the South African Breweries premises to collect what is fast becoming the city's most precious commodity - fresh water.
Just last month such scenes would not have played out, but the increasingly worrying possibility of the city's taps running dry has forced residents into rethinking their sourcing and use of water.
SA Breweries - conveniently located near the cricket and rugby stadiums - installed five taps that allow locals to fill up plastic containers of every shape and size with clean running water diverted from a natural spring located on the premises.
Security has had to be tightened and individuals limited to 25 litres at a time following accusations that some locals and canny entrepreneurs, who travel great distances, were taking as much as 2,000 litres in one go and selling the water to desperate consumers.
The opening times have been adjusted, from a 24-hour operation to 5am - 11pm operation to eliminate incidents of crime.
Many desperate locals, armed with plastic containers, can also be seen collecting water from mountain streams around the city.
Water has clearly become the new gold of Cape Town, a city famous for its beaches and mountains.
Those with more money - and who are not prepared to endure the Newlands queues - can be seen filling up trolleys in supermarkets with five litre bottles of mineral water in an effort to augment their supply as they try to remain within consumption limits.
The city has had to be firm in enforcing its limits on residents. Failure to comply could result in the installation of a water-management device, that strictly limits consumption to 350 litres per day, with the home owner having to foot the 4,500 rand ($378; £265) installation bill.
Sadly though, I have seen many of these plastic devices breaking, resulting in precious water gushing from the pipes, sometimes for as long as 24 hours.
But most locals have adapted their water consumption patterns in an effort to stay within the limits.
Fortunately in our house we have for the past decade had a system that pumps used water to the garden as well as having a 750 litre plastic tank that collects rain water which has been diverted from the roof's gutters.
Current limit per resident: 87 litres; from 1 February: 50 litres
Percentage sticking to limit: 41%
Day Zero (predicted day non-essential supplies to be cut off): 12 April (revised down from 21 April last week). Takes effect when dams reach 13.5% capacity; currently at 27.1%
70% of Cape Town water use is in domestic homes - so:
Fix water leaks on your property
Use drinking water only for drinking, cooking and essential washing
Only flush the toilet when necessary - each flush uses 15 litres on average
Cut showers - which use an average of 15 litres per minute - to two minutes
Collect your shower, bath and basin water and re-use to flush toilet, water garden and wash car
Only run washing machines and dishwashers with a full load
Source: Cape Town government
Through making other behavioural changes, like not watering the garden, limiting the use of the washing machine to two cycles per week and re-using water wherever possible, we have been able to greatly reduce our daily consumption from around 18,000 litres per month last year to the current 7,000 litres per month.
And as a bonus our water bill has been reduced from around $23 per month to $2.30.
But if things do not improve we may have to resort to using paper plates when eating in an effort circumvent dishwashing, while we may also have to limit the use of the washing machine.
With many Capetonians doing everything in their power to limit their water usage our efforts to stave off the dreaded Day Zero, there is nothing more infuriating than seeing those who could not care less hosing down their pavements or their cars with impunity and in contravention of local regulations.
Water from Monday hair wash ready to go into the toilet cistern. No-one in Cape Town should be using fresh water to flush. Turn off the cistern tap. Fill it with grey water and flush as little as possible. pic.twitter.com/Sc90LLqnKs

— Helen Zille (@helenzille) January 22, 2018
Still, that should not deter us from continuing to make our little contribution towards conserving the precious resource that is water.
There is no question that the current crisis has forced a change in water consumption patterns and one has become so used to the new regime that it is hard to imagine returning to the days when, frankly, we were very irresponsible in our use of the world's most precious resource. Without water there cannot be life.